Part two of the Mafia crime saga – 1940's – 50's Empire Bay, NY
Remastered in stunning HD detail, live the life of a gangster during the Golden-era of organized crime. War hero Vito Scaletta becomes entangled with the mob in hopes of paying his father's debts. Alongside his buddy Joe, Vito works to prove himself, climbing the family ladder with crimes of larger reward, status and consequence.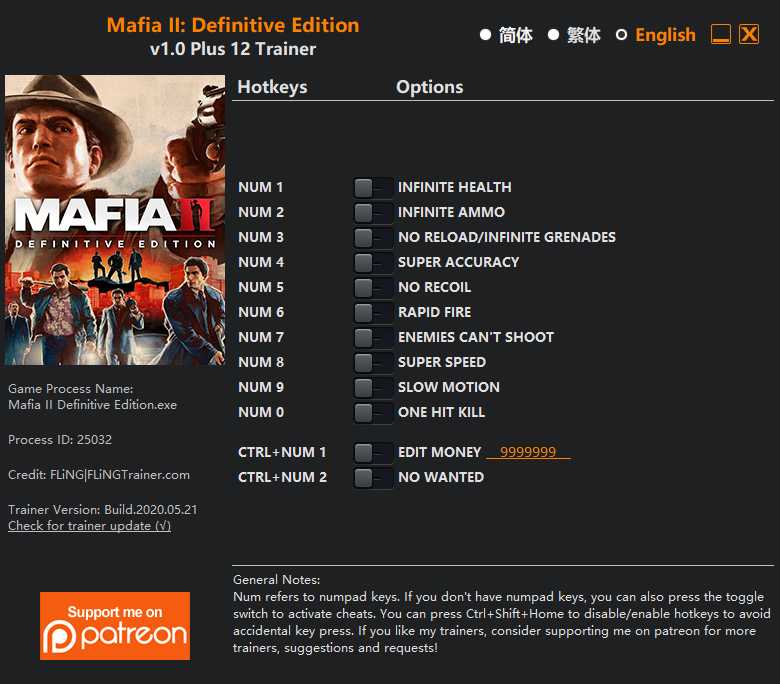 12 Options · Game Version: v1.0+ · Last Updated: 2020.05.21
Options
Num 1 – Infinite Health
Num 2 – Infinite Ammo
Num 3 – No Reload/Infinite Grenades
Num 4 – Super Accuracy
Num 5 – No Recoil
Num 6 – Rapid Fire
Num 7 – Enemies Can't Shoot
Num 8 – Super Speed
Num 9 – Slow Motion
Num 0 – One Hit Kill
Ctrl+Num 1 – Edit Money
Ctrl+Num 2 – No Wanted
Notes
"Infinite Health": Health may still decrease, but it won't decrease to 0.
"Infinite Ammo" takes effect when reload ammo.
"No Reload/Infinite Grenades" takes effect when you shoot or use grenades, and their values won't decrease.
"Edit Money" takes effect when opening map.
"No Wanted": If you activate this option after you're wanted by police, you'll need to escape the police in order to clear the wanted state.