Experience the most realistic and authentic football game with PES 2020!
New features:
• GAMEPLAY: Take command of the ball like never before with new dynamic dribbling skills, new first touch techniques and finely-tuned ball physics, all developed in close consultation with renowned midfielder Andrés Iniesta
• MATCHDAY: Pick a side and join forces with newcomers and veterans alike in a grand struggle for dominance in this new online competitive mode
• MASTER LEAGUE: A completely revamped ML experience awaits — featuring a new interactive dialogue system, an overhauled menu design and a more realistic transfer market realized through improved data integration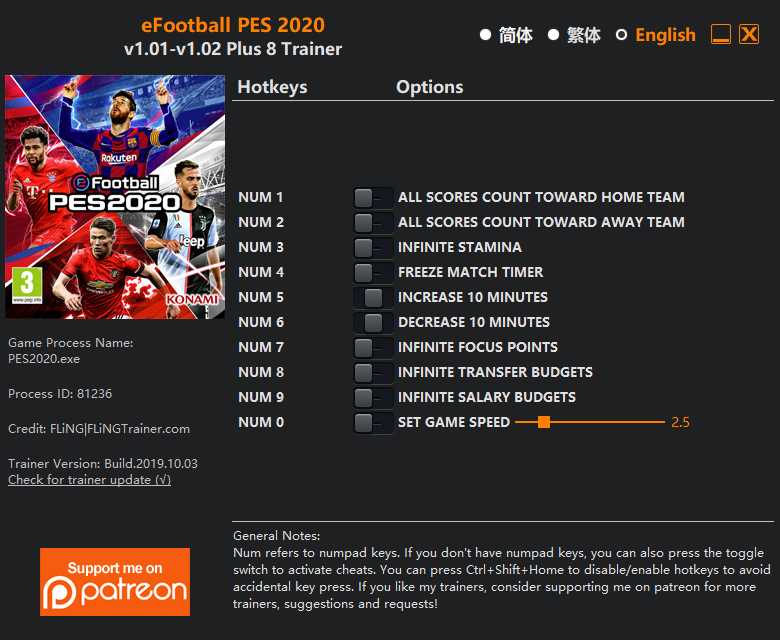 8 Options · Game Version: v1.01-v1.02+ · Last Updated: 2019.10.03
Options
Num 1 – All Scores Count Toward Home Team
Num 2 – All Scores Count Toward Away Team
Num 3 – Infinite Stamina
Num 4 – Freeze Match Timer
Num 5 – Increase 10 Minutes
Num 6 – Decrease 10 Minutes
Num 7 – Infinite Focus Points
Num 8 – Infinite Transfer Budgets
Num 9 – Infinite Salary Budgets
Num 0 – Set Game Speed
Notes
"All Scores Count Toward Home/Away Team": Whenever a score is made, it will always count toward home/away team depends on which option you activated.
"Infinite Transfer Budgets" and "Infinite Salary Budgets" take effect when you enter negotiation menu.
Updates
2019.10.03: Support for datapack v1.02 version.