Reincarnation is the foundation of our way of life. We celebrate the lives we've been given, and offer up prayers for the next.
It is grief of death which shackles the living, and causes the dead to stray. Indeed, there is no greater affront to reincarnation.
So do we turn our grief to joy as we send off the dead.
But the souls of those who held back their tears in life still need salvation in death. A duty that falls to the Watchers.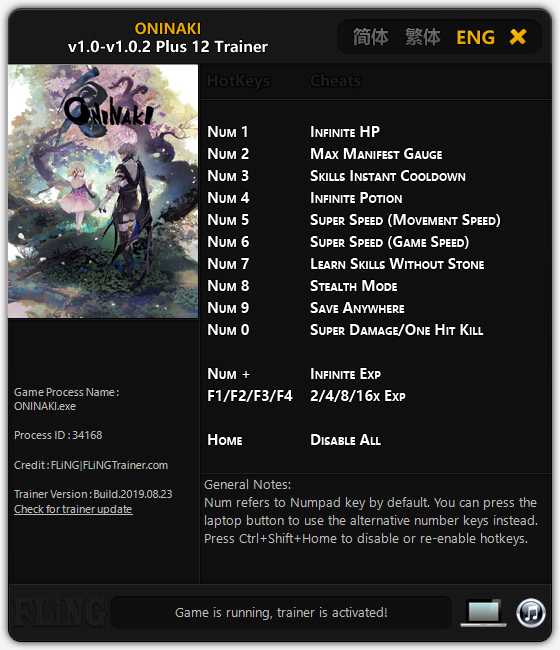 12 Options · Game Version: v1.0-v1.0.2+ · Last Updated: 2019.08.23
Options
Num 1 – Infinite HP
Num 2 – Max Manifest Gauge
Num 3 – Skills Instant Cooldown
Num 4 – Infinite Potion
Num 5 – Super Speed (Movement Speed)
Num 6 – Super Speed (Game Speed)
Num 7 – Learn Skills Without Stone
Num 8 – Stealth Mode
Num 9 – Save Anywhere
Num 0 – Super Damage/One Hit Kill
Num + – Infinite Exp
F1/F2/F3/F4 – 2/4/8/16x Exp
Home – Disable All
Notes
"Infinite Exp" takes effect when you gain EXP.
"Learn Skills Without Stone", you can learn skills even if you don't have any stone.
"Stealth Mode", certain enemies may not appear if they don't see you. If that's the case, you will need to temporary disable this option.
"Save Anywhere", while this option is activated, the save option will always appear in the menu.