With all-out war descending, Kait Diaz breaks away to uncover her connection to the enemy and discovers the true danger to Sera – herself. New campaign features let you take your character and weapon skins into new playthroughs and enjoy bonus difficulties and modifiers.
PvP: May the best team win! With new modes and content since Launch, Versus rewards every competitive style, from casual to pro.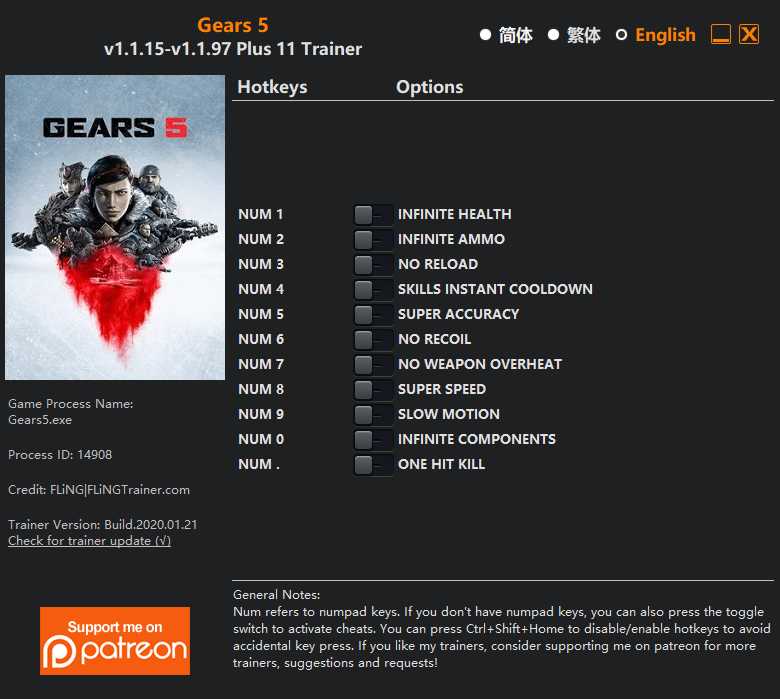 11 Options · Game Version: v1.1.15-v1.1.97+ Steam & Microsoft Store Version · Last Updated: 2020.01.21
Note: Offline mode only.
Options
Num 1 – Infinite Health
Num 2 – Infinite Ammo
Num 3 – No Reload
Num 4 – Skills Instant Cooldown
Num 5 – Super Accuracy
Num 6 – No Recoil
Num 7 – No Weapon Overheat
Num 8 – Super Speed
Num 9 – Slow Motion
Num 0 – Infinite Components
Num . – One Hit Kill
Notes
"One Hit Kill", during act 1 chapter 1, there is a special enemy that requires you to call reinforcements, if you kill it before reinforcements arrive, you won't be able to go pass the next 2 checkpoints. If you encountered this problem, just reload the previous checkpoint and fight it again.
Important Notes
This game uses EasyAntiCheat protection, in order to launch this game without EAC enabled, please follow these instructions:
If you have never launched the game before, you'll need launch the game normally and create an account first. Then close the game.
Disconnect from the internet. (This is required)
Run the trainer first.
Launch the game, twice. The first time it will close automatically. The second time it should be running fine.
When the game is updated, or if you have been playing offline for a while, you'll need to launch the game online once again in order to verify ownership, otherwise the game may not start.
Updates
2020.01.21: Fixed the problem where the previous (2019.12.17) version did not try to disable EAC.
2019.12.17: Update for v1.1.97 game version.
2019.09.10: Updated EAC bypass method, now you don't need to copy the trainer to the game folder anymore. Should be compatible with Microsoft Store version.