Ys returns with a brand new adventure for the first time in 8 years! Adol awakens shipwrecked and stranded on a cursed island. There, he and the other shipwrecked passengers he rescues form a village to challenge fearsome beasts and mysterious ruins on the isolated island. Amidst this, Adol begins to dream of a mysterious blue-haired maiden living in an unknown world. Join Adol as he unravels the riddle of the cursed isle and the blue-haired maiden Dana in Ys VIII: Lacrimosa of DANA!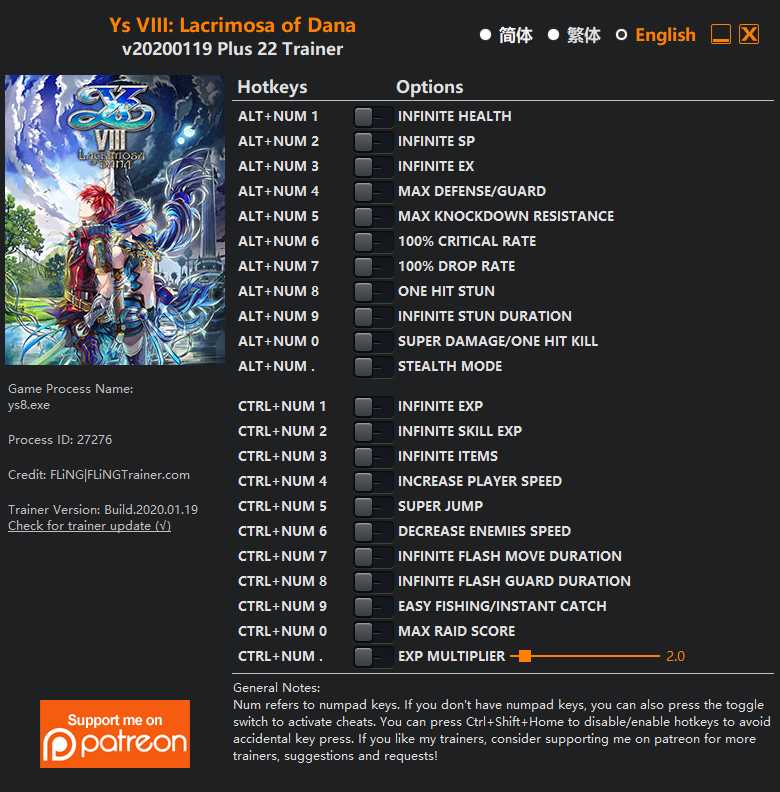 22 Options · Game Version: v20200119+/64 bit version · Last Updated: 2020.01.19
Options
Alt+Num 1 – Infinite Health
Alt+Num 2 – Infinite SP
Alt+Num 3 – Infinite EX
Alt+Num 4 – Max Defense/Guard
Alt+Num 5 – Max Knockdown Resistance
Alt+Num 6 – 100% Critical Rate
Alt+Num 7 – 100% Drop Rate
Alt+Num 8 – One Hit Stun
Alt+Num 9 – Infinite Stun Duration
Alt+Num 0 – Super Damage/One Hit Kill
Alt+Num . – Stealth Mode
Ctrl+Num 1 – Infinite Exp
Ctrl+Num 2 – Infinite Skill Exp
Ctrl+Num 3 – Infinite Items
Ctrl+Num 4 – Increase Player Speed
Ctrl+Num 5 – Super Jump
Ctrl+Num 6 – Decrease Enemies Speed
Ctrl+Num 7 – Infinite Flash Move Duration
Ctrl+Num 8 – Infinite Flash Guard Duration
Ctrl+Num 9 – Easy Fishing/Instant Catch
Ctrl+Num 0 – Max Raid Score
Ctrl+Num . – Exp Multiplier
Notes
"Infinite Items" only works for item quantity greater than 1. Note some side quests require you to collect the exact amount of items, you'll need to disable this option otherwise you may not be able to complete the side quests.
"Infinite Flash Move Duration" and "Infinite Flash Guard Duration": flash move and flash guard may end when opening menu or entering a different location.