Where did the robots come from? What do they want? How can you survive?
Generation Zero is a stealth-action hybrid with a rich and rewarding world to explore and mysteries to uncover. Play alone or with up to three friends in a vast open-world map that will challenge your resourcefulness and ingenuity. Because living is winning.
Hide, seek, scavenge and shoot your way through a world of peril and secrets. From dense forests to derelict towns, from vast fields to makeshift bases, Östertörn is a location with a story to tell where no two encounters are the same.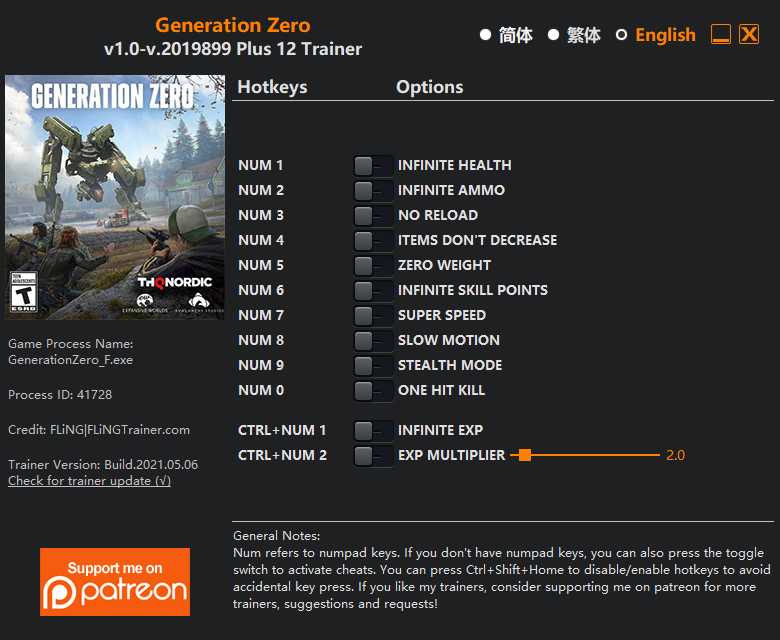 12 Options · Game Version: v1.0-v.2019899+ · Last Updated: 2021.05.06
Options
Num 1 – Infinite Health
Num 2 – Infinite Ammo
Num 3 – No Reload
Num 4 – Items Don't Decrease
Num 5 – Zero Weight
Num 6 – Infinite Skill Points
Num 7 – Super Speed
Num 8 – Slow Motion
Num 9 – Stealth Mode
Num 0 – One Hit Kill
Ctrl+Num 1 – Infinite Exp
Ctrl+Num 2 – Exp Multiplier
Notes
"Items Don't Decrease" works for all items including ammo.
"Infinite Exp" takes effect when gaining exp.
Updates
2021.05.06: Update for v.2019899 game version.
2020.11.24: Update for v.1914906 game version.
2020.06.23: Update for v20200623 game version.
2020.06.15: Update for v20200428 game version.