OUTRIDERS is a 1-3 player co-op RPG shooter set in an original, dark and desperate sci-fi universe.
As mankind bleeds out in the trenches of Enoch, you'll create your own Outrider and embark on a journey across the hostile planet.
With rich storytelling spanning a diverse world, you'll leave behind the slums and shanty towns of the First City and traverse forests, mountains and desert in the pursuit of a mysterious signal.
Combining intense gunplay with violent powers and an arsenal of increasingly twisted weaponry and gear-sets, OUTRIDERS offers countless hours of gameplay from one of the finest shooter developers in the industry – People Can Fly.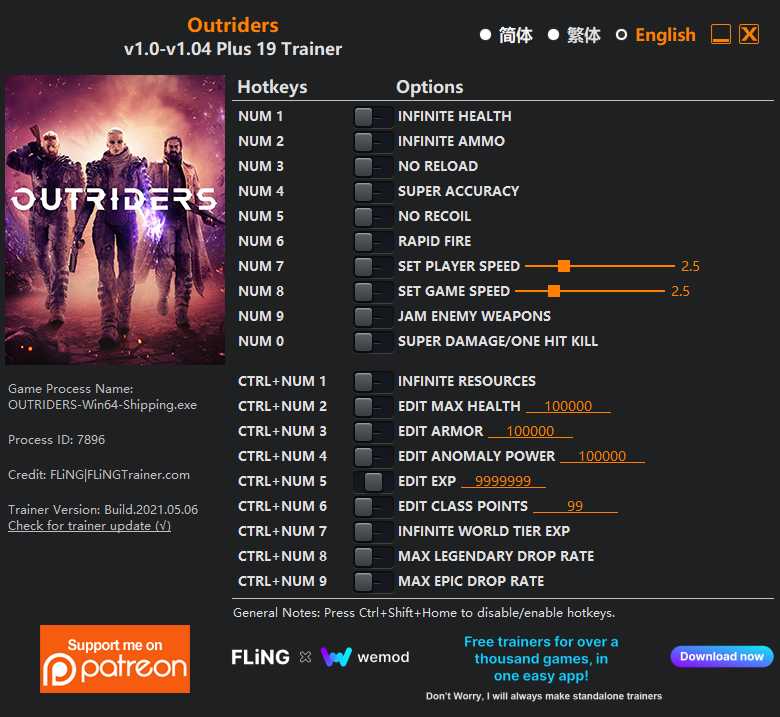 19 Options · Game Version: v1.0-v1.04+ · Last Updated: 2021.05.06
Note: Single player only.
Options
Num 1 – Infinite Health
Num 2 – Infinite Ammo
Num 3 – No Reload
Num 4 – Super Accuracy
Num 5 – No Recoil
Num 6 – Rapid Fire
Num 7 – Set Player Speed
Num 8 – Set Game Speed
Num 9 – Jam Enemy Weapons
Num 0 – Super Damage/One Hit Kill
Ctrl+Num 1 – Infinite Resources
Ctrl+Num 2 – Edit Max Health
Ctrl+Num 3 – Edit Armor
Ctrl+Num 4 – Edit Anomaly Power
Ctrl+Num 5 – Edit Exp
Ctrl+Num 6 – Edit Class Points
Ctrl+Num 7 – Infinite World Tier Exp
Ctrl+Num 8 – Max Legendary Drop Rate
Ctrl+Num 9 – Max Epic Drop Rate
Notes
"Edit Class Points": Takes effect when opening menu. If you activate this option while in the menu, you'll need to close and re-open the menu in order to change class points.
"Infinite World Tier Exp": Takes effect when killing enemies. Note you may need to finish the battle or mission in order to level up world tier.
Special Notes
This game uses EasyAntiCheat protection, in order to launch this game without EAC, please follow these instructions:
1. Copy "EAC_OUTRIDERS.exe" to game directory.
2. Start game.
Updates
2021.05.06: Added "Max Epic Drop Rate" option; Update for v1.04 game version.
2021.04.10: Added "Infinite World Tier Exp" and "Max Legendary Drop Rate" options; Update for v1.02 game version.