GREEN HELL is an Open World Survival Simulator set in the uncharted unique setting of the Amazonian rainforest.
You are left alone in the jungle without any food or equipment, trying to survive and find your way out. Clinging to life, the player is set on a journey of durability as the effects of solitude wear heavy not only on the body but also the mind. How long can you survive against the dangers of the unknown?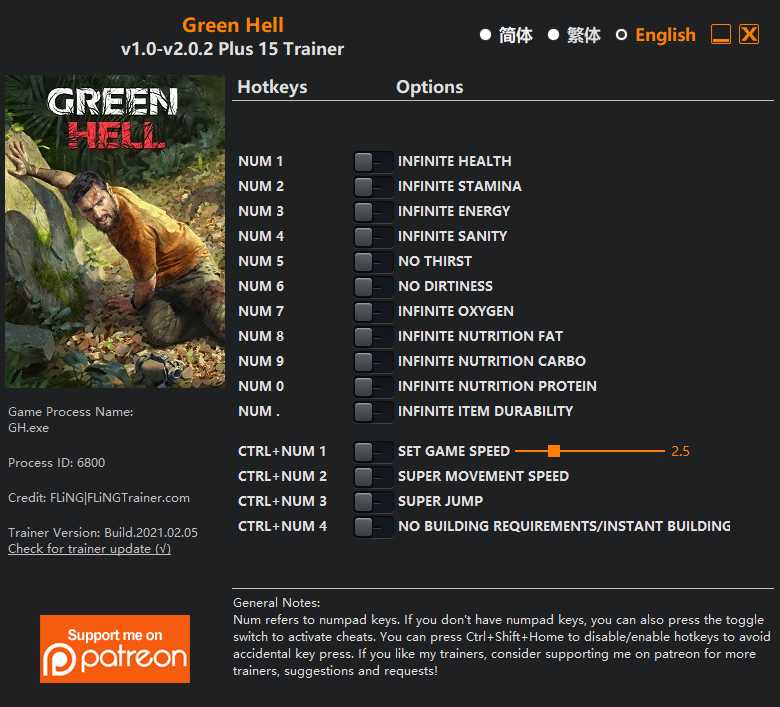 15 Options · Game Version: v1.0-v2.0.2+ · Last Updated: 2021.02.05
Options
Num 1 – Infinite Health
Num 2 – Infinite Stamina
Num 3 – Infinite Energy
Num 4 – Infinite Sanity
Num 5 – No Thirst
Num 6 – No Dirtiness
Num 7 – Infinite Oxygen
Num 8 – Infinite Nutrition Fat
Num 9 – Infinite Nutrition Carbo
Num 0 – Infinite Nutrition Protein
Num . – Infinite Item Durability
Ctrl+Num 1 – Set Game Speed
Ctrl+Num 2 – Super Movement Speed
Ctrl+Num 3 – Super Jump
Ctrl+Num 4 – No Building Requirements/Instant Building
Updates
2021.02.05: Update for v2.0.2 game version.
2019.12.22: Update for v1.3.0 game version.
2019.12.11: Update for v1.2.1 game version.
2019.10.01: Update for v1.0.3 game version.