A unique experience full of savage combat and mystical adventures. You are Cahal, a powerful Garou who can transform into a wolf and a Crinos, a huge ferocious beast. Master your three forms and their powers to punish those who defile Gaia.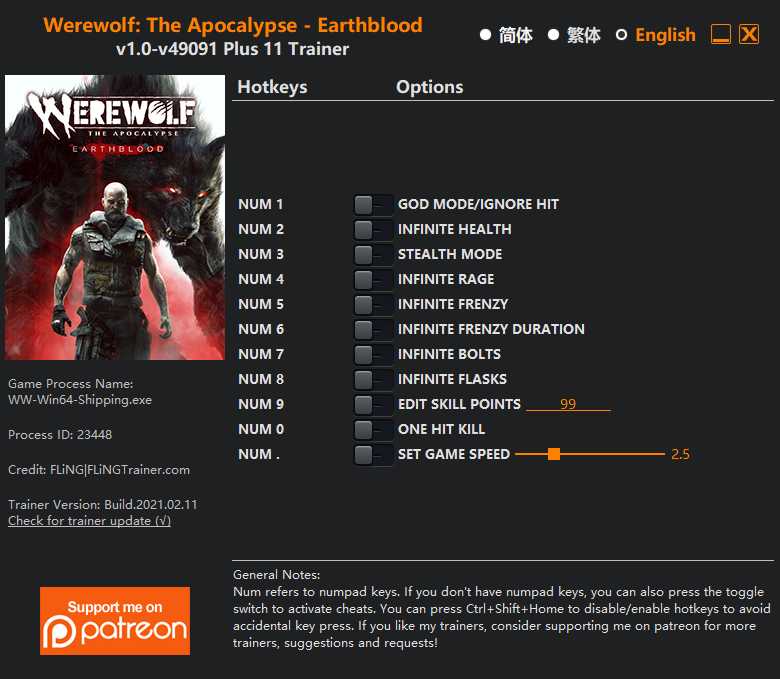 11 Options · Game Version: v1.0-v49091+ · Last Updated: 2021.02.11
Options
Num 1 – God Mode/Ignore Hit
Num 2 – Infinite Health
Num 3 – Stealth Mode
Num 4 – Infinite Rage
Num 5 – Infinite Frenzy
Num 6 – Infinite Frenzy Duration
Num 7 – Infinite Bolts
Num 8 – Infinite Flasks
Num 9 – Edit Skill Points
Num 0 – One Hit Kill
Num . – Set Game Speed
Notes
"Infinite Health": This option can't prevent max health drop from silver bullet damage, but you won't die even if your max health is drop to 0.
"Infinite Frenzy": Takes effect when you gain frenzy.
"Stealth Mode": Enemies won't see you, but cameras can still detect you. If you engage in battle you will also be detected.