Hades is a god-like rogue-like dungeon crawler that combines the best aspects of Supergiant's critically acclaimed titles, including the fast-paced action of Bastion, the rich atmosphere and depth of Transistor, and the character-driven storytelling of Pyre.
As the immortal Prince of the Underworld, you'll wield the powers and mythic weapons of Olympus to break free from the clutches of the god of the dead himself, while growing stronger and unraveling more of the story with each unique escape attempt.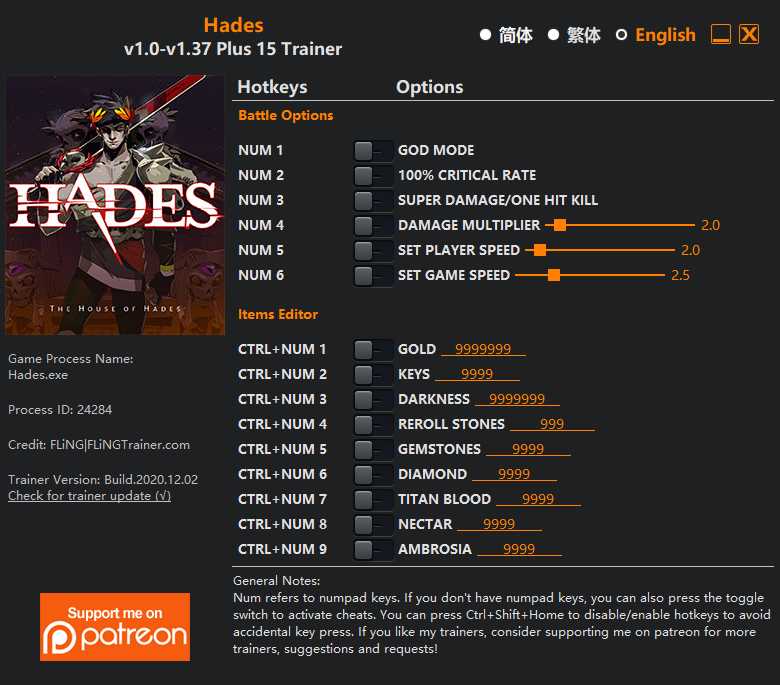 15 Options · Game Version: v1.0-v1.37+ DirectX Version · Last Updated: 2020.12.02
Options
Battle Options
Num 1 – God Mode
Num 2 – 100% Critical Rate
Num 3 – Super Damage/One Hit Kill
Num 4 – Damage Multiplier
Num 5 – Set Player Speed
Num 6 – Set Game Speed
Items Editor
Ctrl+Num 1 – Gold
Ctrl+Num 2 – Keys
Ctrl+Num 3 – Darkness
Ctrl+Num 4 – Reroll Stones
Ctrl+Num 5 – Gemstones
Ctrl+Num 6 – Diamond
Ctrl+Num 7 – Titan Blood
Ctrl+Num 8 – Nectar
Ctrl+Num 9 – Ambrosia
Notes
Items Editor options take effects when changing area or buying items.
This trainer only works for 64 bit version of the game.
Updates
2020.12.02: Update for v1.37 game version.
2020.09.18: Update for v1.0 game version; Updated "Set Game Speed" to allow setting speed less than 1.0 (slow mode).
2020.07.12: Update for v0.32030 game version.
2020.06.27: Fixed battle options not working when using the controller; Update for v0.31726 game version.
2020.06.25: Update for v0.31666 game version.