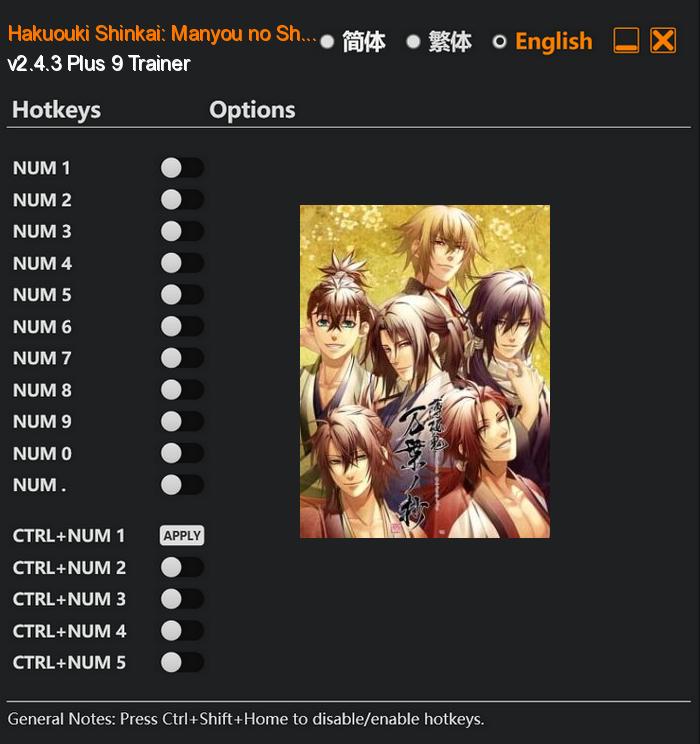 Hakuouki Shinkai: Manyou no Shou takes players on a remarkable journey through an exquisite fandisc that delves deep into the captivating world of Hakuouki. This extraordinary game seamlessly combines numerous spin-off stories and dazzling illustrations, crafting an experience that fans will cherish. Offering a fresh perspective, Manyou no Shou presents a collection of narratives that were not explored in the main story, unearthing forgotten recollections of incidents from "Hakuouki Zuisouroku."
The game's breathtaking hand-drawn illustrations transport players to a visually stunning realm where cherry blossoms dance in the wind and moonlit nights set the stage for unforgettable encounters. With its meticulously rendered landscapes and meticulously designed characters, Manyou no Shou truly captures the essence of the captivating world of Hakuouki.
Special Notes:
In order to use this trainer, you will need to downgrade your game to a previous game version.
Extract and copy Hakuouki Shinkai: Manyou no Shou.exe to your game's root folder and overwrite existing file (Back up original file if needed).
Download: