Agent 47 returns as a ruthless professional in HITMAN 3 for the most important contracts of his entire career. Embark on an intimate journey of darkness and hope in the dramatic conclusion to the World of Assassination trilogy. Death awaits.
Experience a globetrotting adventure and visit exotic locations that are meticulously detailed and packed full of creative opportunities. IOI's award-winning Glacier technology powers HITMAN 3's tactile and immersive game world to offer unparalleled player choice and replayability.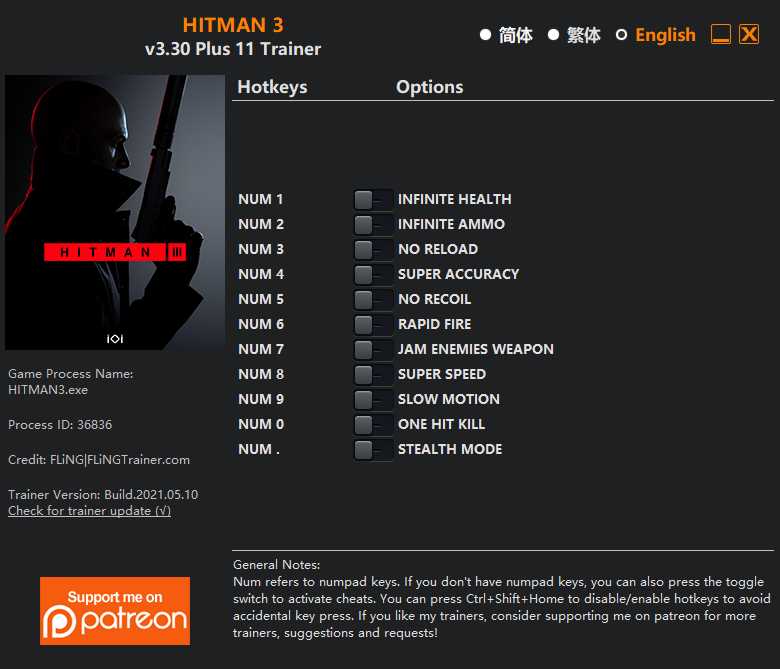 11 Options · Game Version: v3.10-v3.30+ · Last Updated: 2021.05.10
Options
Num 1 – Infinite Health
Num 2 – Infinite Ammo
Num 3 – No Reload
Num 4 – Super Accuracy
Num 5 – No Recoil
Num 6 – Rapid Fire
Num 7 – Jam Enemies Weapon
Num 8 – Super Speed
Num 9 – Slow Motion
Num 0 – One Hit Kill
Num . – Stealth Mode
Notes
"Infinite Ammo": Takes effect when you reload.
"Stealth Mode": If you are already engaged in battle before activating this option, you'll need to escape/finish the battle to have stealth effect. Note, while in stealth mode, you may not be able to accept some challenges/side quests, you may need to disable this option for those events.
Updates
2021.05.10: Update for v3.30 game version.