A quarter-century after nuclear war devastated the earth, a few thousand survivors still cling to existence beneath the ruins of Moscow, in the tunnels of the Metro.
They have struggled against the poisoned elements, fought mutated beasts and paranormal horrors, and suffered the flames of civil war.
But now, as Artyom, you must flee the Metro and lead a band of Spartan Rangers on an incredible, continent-spanning journey across post-apocalyptic Russia in search of a new life in the East.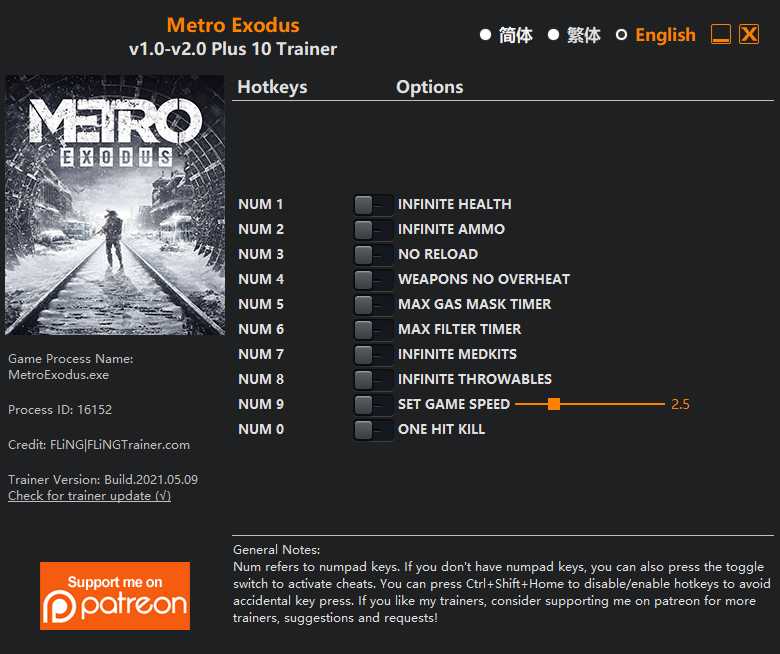 10 Options · Game Version: Original/Enhanced Edition v1.0-v2.0+ · Last Updated: 2021.05.09
Options
Num 1 – Infinite Health
Num 2 – Infinite Ammo
Num 3 – No Reload
Num 4 – Weapons No Overheat
Num 5 – Max Gas Mask Timer
Num 6 – Max Filter Timer
Num 7 – Infinite Medkits
Num 8 – Infinite Throwables
Num 9 – Set Game Speed
Num 0 – One Hit Kill
Notes
"Infinite Ammo" takes effect when you reload ammo.
"Infinite Medkits" takes effect when you use medkits.
Updates
2021.05.09: Update for v2.0 (Enhanced Edition) game version.
2020.06.01: Update for v1.0.0.7 game version.