Bohemia – located in the heart of Europe, the region is rich in culture, silver, and sprawling castles. The death of its beloved ruler, Emperor Charles IV, has plunged the kingdom into dark times: war, corruption, and discord are tearing this jewel of the Holy Roman Empire apart.
One of Charles' sons, Wenceslas, has inherited the crown. Unlike his father, Wenceslas is a naive, self-indulgent, unambitious monarch. His half-brother and King of Hungary, Sigismund the Red Fox, senses weakness in Wenceslas. Feigning good will, Sigismund travels to Bohemia and kidnaps his half-brother. With no king on the throne, Sigismund is now free to plunder Bohemia and seize its riches.
In the midst of this chaos, you're Henry, the son of a blacksmith. Your peaceful life is shattered when a mercenary raid, ordered by King Sigismund himself, burns your village to the ground. By bittersweet fortune, you are one of the few survivors of this massacre.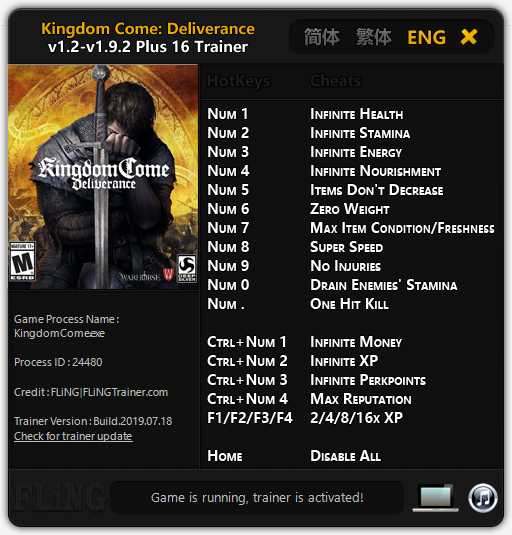 16 Options · Game Version: v1.2-v1.9.2+ · Last Updated: 2019.07.18
Options
Num 1 – Infinite Health
Num 2 – Infinite Stamina
Num 3 – Infinite Energy
Num 4 – Infinite Nourishment
Num 5 – Items Don't Decrease
Num 6 – Zero Weight
Num 7 – Max Item Condition/Freshness
Num 8 – Super Speed
Num 9 – No Injuries
Num 0 – Drain Enemies' Stamina
Num . – One Hit Kill
Ctrl+Num 1 – Infinite Money
Ctrl+Num 2 – Infinite XP
Ctrl+Num 3 – Infinite Perk Points
Ctrl+Num 4 – Max Reputation
F1/F2/F3/F4 – 2/4/8/16x XP
Home – Disable All
Notes
"Items Don't Decrease" works on items that are greater than 1 and the consumed amount is less than its quantity.
"Zero Weight" if you're already overloaded before using this option, you will need to change weight once to remove the overloaded debuff.
"Infinite XP" and XP multiplier options works whenever you gain XP.
Updates
2019.07.18: Updated for game version v1.9.2.
2019.05.29: Updated for game version v1.9.0 and DLC.