The hit RPG returns! From the minds of the bestselling author R.A. Salvatore, Spawn creator Todd McFarlane, and Elder Scrolls IV: Oblivion lead designer Ken Rolston, comes Kingdoms of Amalur: Re-Reckoning. Remastered with stunning visuals and refined gameplay Re-Reckoning delivers intense, customizable RPG combat inside a sprawling game world.
Uncover the secrets of Amalur, from the vibrant city of Rathir to the vast region of Dalentarth to the grim dungeons of the Brigand Hall Caverns. Rescue a world torn apart by a vicious war and control the keys to immortality as the first warrior ever to be resurrected from the grips of death.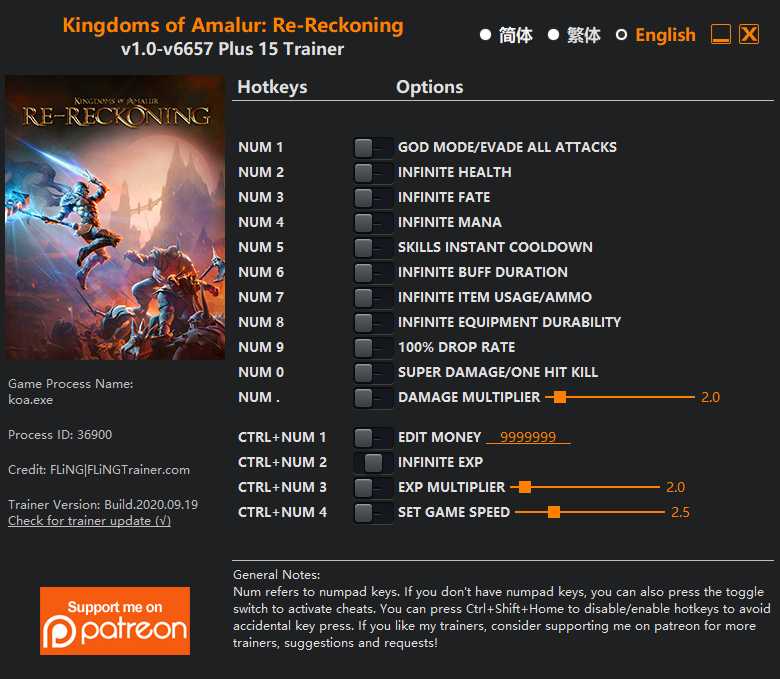 15 Options · Game Version: v1.0-v6657+ · Last Updated: 2020.09.19
Options
Num 1 – God Mode/Evade All Attacks
Num 2 – Infinite Health
Num 3 – Infinite Fate
Num 4 – Infinite Mana
Num 5 – Skills Instant Cooldown
Num 6 – Infinite BUFF Duration
Num 7 – Infinite Item Usage/Ammo
Num 8 – Infinite Equipment Durability
Num 9 – 100% Drop Rate
Num 0 – Super Damage/One Hit Kill
Num . – Damage Multiplier
Ctrl+Num 1 – Edit Money
Ctrl+Num 2 – Infinite Exp
Ctrl+Num 3 – Exp Multiplier
Ctrl+Num 4 – Set Game Speed
Notes
"Infinite Fate" takes effect when gaining fate.
"Infinite Equipment Durability" takes effect when durability decreases.
"Infinite Exp": When activated, you'll gain huge amount of exp when killing an enemy. Note each time you gain exp, you can only level up once, you'll need to gain exp multiple times in order to level up to max.
"Infinite Fate": Note only activate this option after the tutorial, otherwise you would not be able to pass the tutorial (you'll need to disable this option and load the last autosave and try the tutorial again).
Updates
2020.09.19: Update for v6657 game version.