Celebrate 25 years of PES with the eFootball PES 2021 Season Update* – available at a special anniversary price!
This product is an updated edition of eFootball PES 2020 (launched in September, 2019) containing the latest player data and club rosters. Please note that some leagues will have their rosters updated post-release.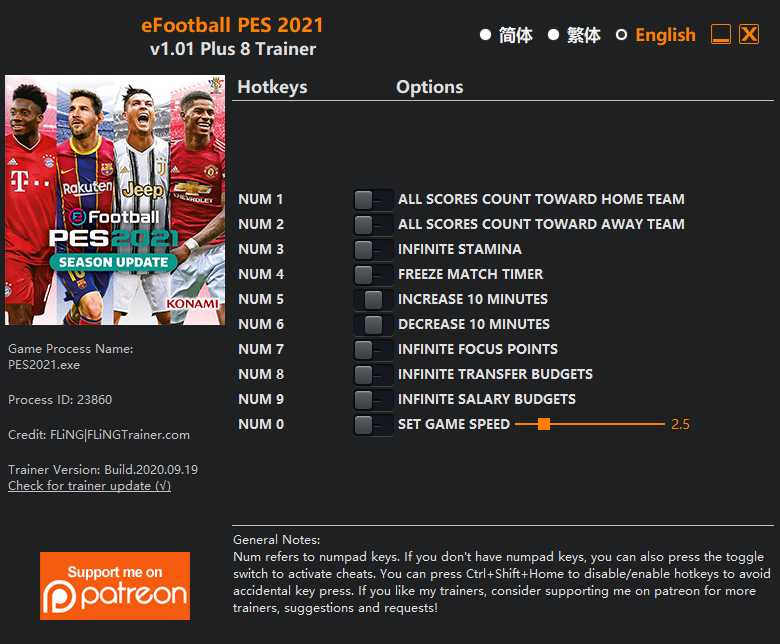 8 Options · Game Version: v1.01+ · Last Updated: 2020.09.19Options
Num 1 – All Scores Count Toward Home Team
Num 2 – All Scores Count Toward Away Team
Num 3 – Infinite Stamina
Num 4 – Freeze Match Timer
Num 5 – Increase 10 Minutes
Num 6 – Decrease 10 Minutes
Num 7 – Infinite Focus Points
Num 8 – Infinite Transfer Budgets
Num 9 – Infinite Salary Budgets
Num 0 – Set Game Speed
Notes
"All Scores Count Toward Home/Away Team": Whenever a score is made, it will always count toward home/away team depends on which option you activated.
"Infinite Transfer Budgets" and "Infinite Salary Budgets" take effect when you enter negotiation menu.