The Little Witch Nobeta is a 3D action shooting game.
Players will explore ancient, unknown castles and use different magic elements to fight against the soul!
The game uses a comfortable Japanese art style, but the battles are quite challenging despite its cute looks.
Underestimating your foes will lead to troublesome encounters. You must discover enemies' weaknesses and learn the precise time to dodge attacks in order to gain the advantage in combat.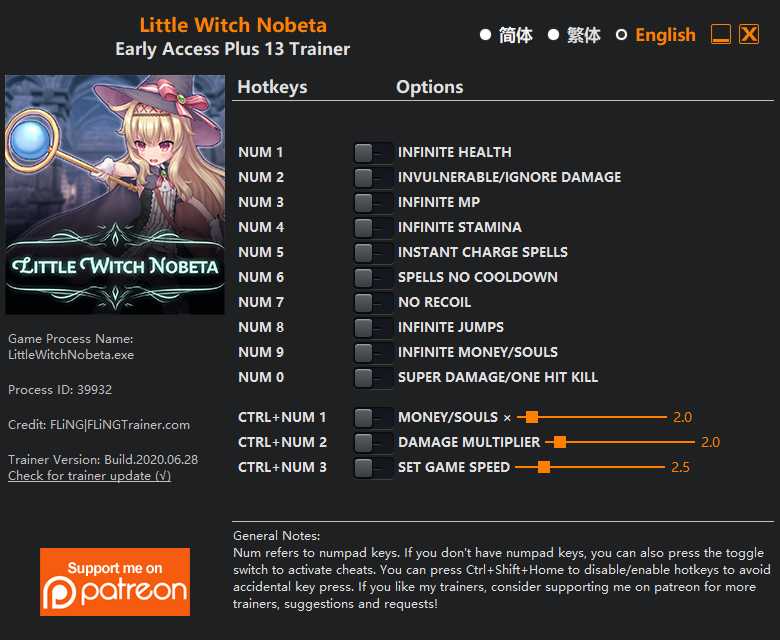 13 Options · Game Version: Early Access · Last Updated: 2020.06.28
Options
Num 1 – Infinite Health
Num 2 – Invulnerable/Ignore Damage
Num 3 – Infinite MP
Num 4 – Infinite Stamina
Num 5 – Instant Charge Spells
Num 6 – Spells No Cooldown
Num 7 – No Recoil
Num 8 – Infinite Jumps
Num 9 – Infinite Money/Souls
Num 0 – Super Damage/One Hit Kill
Ctrl+Num 1 – Money/Souls Multiplier
Ctrl+Num 2 – Damage Multiplier
Ctrl+Num 3 – Set Game Speed
Notes
"Infinite Money/Souls" takes effect when you gain money/souls.
"No Recoil": When using charged spells, you may still have some recoil (knock back) effects.