It is a time of war.
The Republic of Galbadia, under the influence of the sorceress Edea, mobilises its great armies against the other nations of the world.
Squall and other members of SeeD, an elite mercenary force, join hands with Rinoa, a resistance fighter, to fight against Galbadia's tyrannical rule and to prevent Edea from fulfilling her ultimate goal.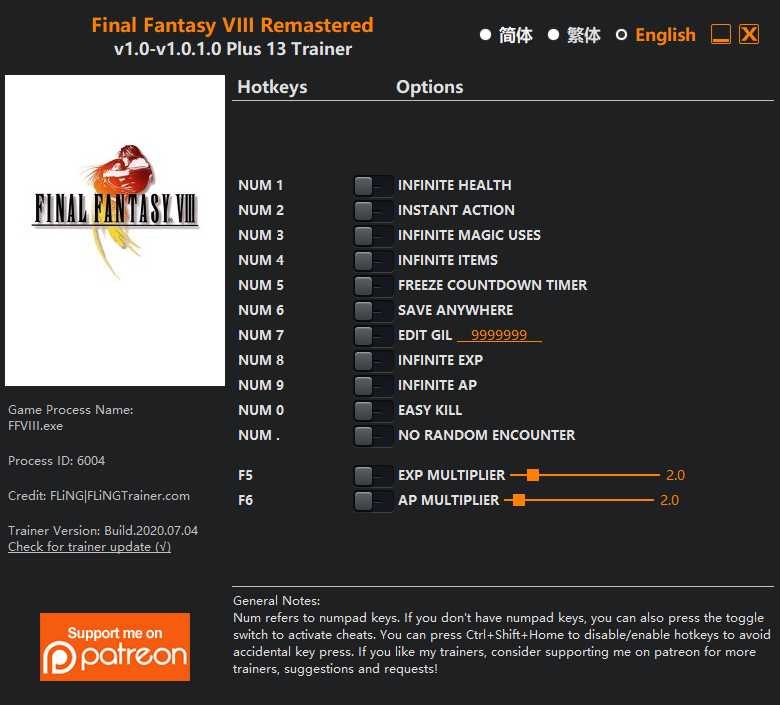 13 Options · Game Version: v1.0-v1.0.1.0+ · Last Updated: 2020.07.04
Options
Num 1 – Infinite Health
Num 2 – Instant Action
Num 3 – Infinite Magic Uses
Num 4 – Infinite Items
Num 5 – Freeze Countdown Timer
Num 6 – Save Anywhere
Num 7 – Edit Gil
Num 8 – Infinite Exp
Num 9 – Infinite AP
Num 0 – Easy Kill
Num . – No Random Encounter
F5 – Exp Multiplier
F6 – AP Multiplier
Notes
"Infinite Health" takes effect when you receive damage; "Infinite Items" takes effect when entering item menu.
"Infinite Exp", while activated, you'll get 60,000+ exp in every battle. After two or three battles you should be able to level up to max.
"Infinite AP", while activated, you'll get 255 AP in every battle.
You can speed up the game using in-game cheat (press F3). There are also many useful in-game cheats you can find in the cheat menu.
Updates
2020.07.04: Supports Japanese game version (Japanese version must be v1.0.1.0 or higher).
2019.11.16: Update for v1.0.1.0 game version.
2019.10.29: Updated "Infinite Magic Uses" to set magic to 100, and also works outside of battles. Updated "Exp Multiplier" to have minimum of 0 multiplier as requested.