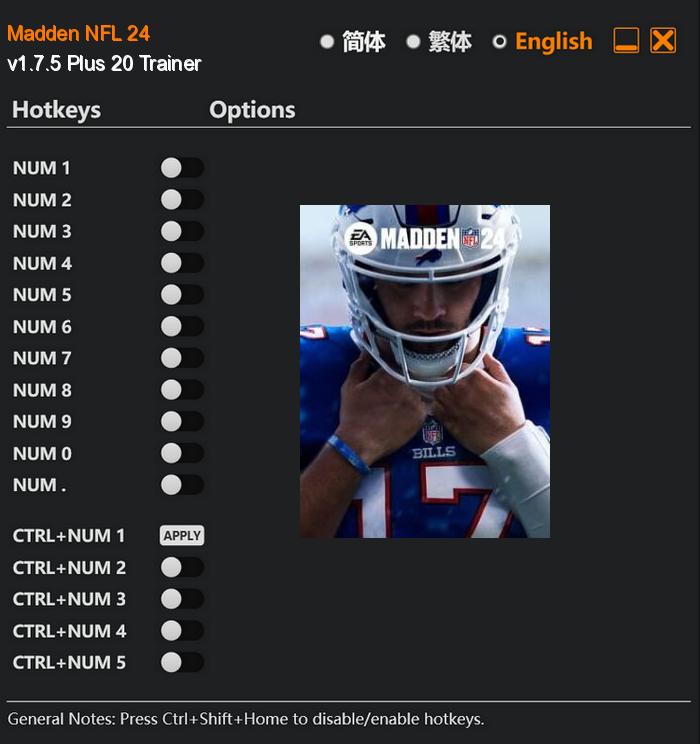 Madden NFL 24 takes football gaming to new heights with its immersive and realistic gameplay. This latest iteration of the popular Madden series introduces FieldSENSE, a groundbreaking technology that revolutionizes character movement on the virtual field. From the moment you take control of your favorite NFL team or create your own player, you'll notice the incredible attention to detail and fluid animations that bring every movement to life.
And of course, Madden NFL 24 comes packed with all your favorite NFL teams, players, and stadiums. The game's extensive roster allows you to assemble your dream team, compete in historic matchups, or rewrite NFL history with your own unforgettable moments. With realistic commentary, jaw-dropping visuals, and the iconic gameplay that Madden is known for, this is the definitive football gaming experience.
Special Notes:
In order to use this trainer, you will need to downgrade your game to a previous game version.
Extract and copy Madden NFL 24.exe to your game's root folder and overwrite existing file (Back up original file if needed).
Download:
Medias: