Part one of the Mafia crime saga – 1930s, Lost Heaven, IL
Re-made from the ground up, rise through the ranks of the Mafia during the Prohibition era of organized crime. After a run-in with the mob, cab driver Tommy Angelo is thrust into a deadly underworld. Initially uneasy about falling in with the Salieri crime family, Tommy soon finds that the rewards are too big to ignore.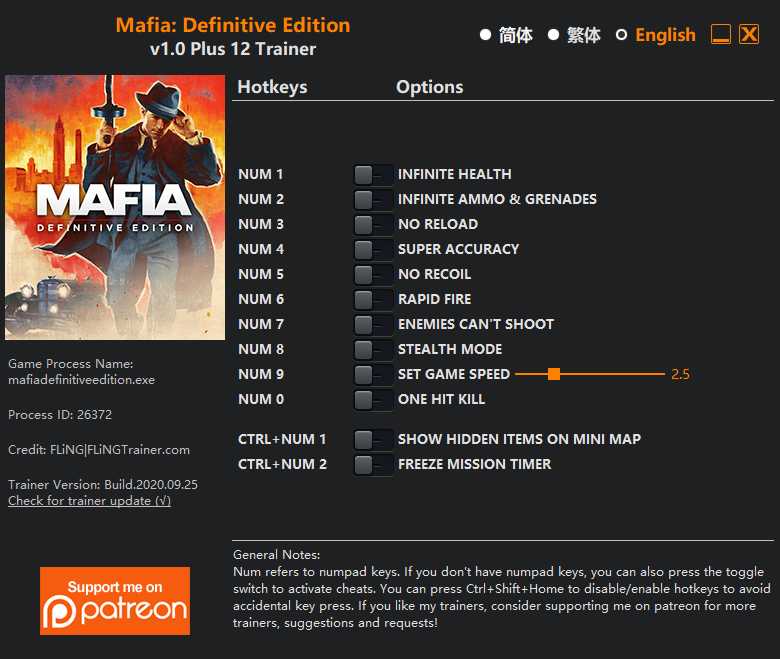 12 Options · Game Version: v1.0+ · Last Updated: 2020.09.25
Options
Num 1 – Infinite Health
Num 2 – Infinite Ammo & Grenades
Num 3 – No Reload
Num 4 – Super Accuracy
Num 5 – No Recoil
Num 6 – Rapid Fire
Num 7 – Enemies Can't Shoot
Num 8 – Stealth Mode
Num 9 – Set Game Speed
Num 0 – One Hit Kill
Ctrl+Num 1 – Show Hidden Items On Mini Map
Ctrl+Num 2 – Freeze Mission Timer
Notes
"Show Hidden Items On Mini Map": When activated, most hidden items will be displayed on mini map.