This is a fantastical tale of an exotic land. The Old Empire which once ruled the desert has fallen, leaving various tribes to fight for control of their world. Little do they know of the seeds of darkness which grow in the shadows with each passing day…
Recruit and train your soldiers for both large-scale battles and skirmishes. Customize your hero's skills to become a martial arts master, powerful archmage, and more. Manage your resources, ally with different factions, and command your troops in real-time to win.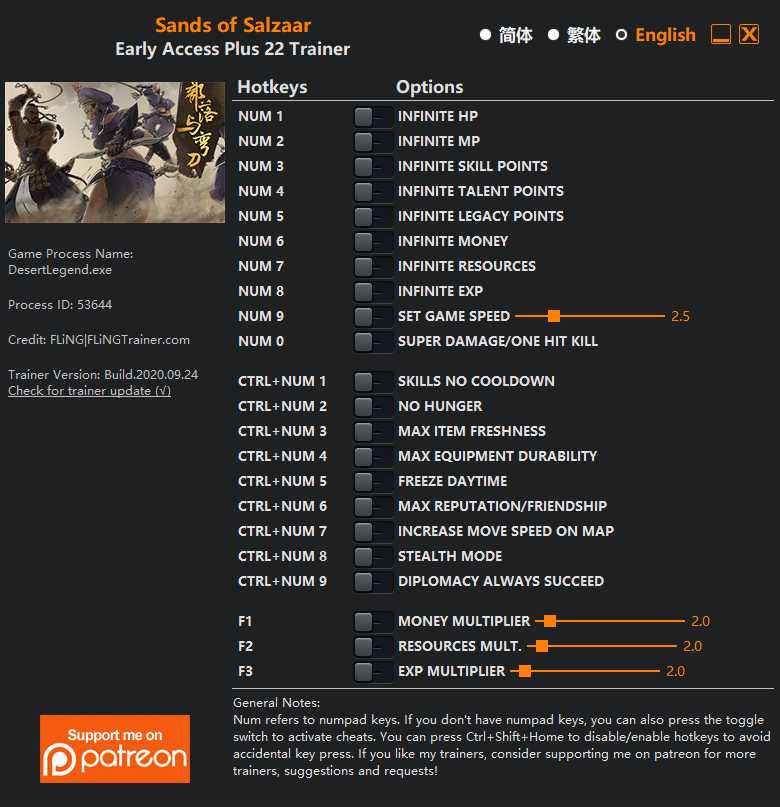 22 Options · Game Version: Early Access v0.8+ · Last Updated: 2020.09.24
Options
Num 1 – Infinite HP
Num 2 – Infinite MP
Num 3 – Infinite Skill Points
Num 4 – Infinite Talent Points
Num 5 – Infinite Legacy Points
Num 6 – Infinite Money
Num 7 – Infinite Resources
Num 8 – Infinite Exp
Num 9 – Set Game Speed
Num 0 – Super Damage/One Hit Kill
Ctrl+Num 1 – Skills No Cooldown
Ctrl+Num 2 – No Hunger
Ctrl+Num 3 – Max Item Freshness
Ctrl+Num 4 – Max Equipment Durability
Ctrl+Num 5 – Freeze Daytime
Ctrl+Num 6 – Max Reputation/Friendship
Ctrl+Num 7 – Increase Move Speed On Map
Ctrl+Num 8 – Stealth Mode
Ctrl+Num 9 – Diplomacy Always Succeed
F1 – Money Multiplier
F2 – Resources Multiplier
F3 – Exp Multiplier
Notes
"Infinite HP" takes effect when HP changes; "Infinite MP" takes effect when MP changes.
"Infinite Skill Points" and "Infinite Legacy Points" take effects when skill/legacy point changes.
"Infinite Talent Points": activate before opening talent menu. This option is not permanent, after disabling this option, talent points will reset and your talents may also reset.
"Infinite Money" takes effect when money increases; "Infinite Resources" takes effect when resource values change, note this option does not work for food.
"Infinite Exp" takes effect after winning battles.
"Skills No Cooldown": activate before using skill.
"Max Equipment Durability" takes effect after battle, all currently equipped weapons and armors will have max durability.
"Max Reputation/Friendship" and "Max Item Freshness" effects are not permanent, disable these options will restore their original values.
"Diplomacy Always Succeed": On v0.8 game version or above, this option lets player decide all diplomacy results.