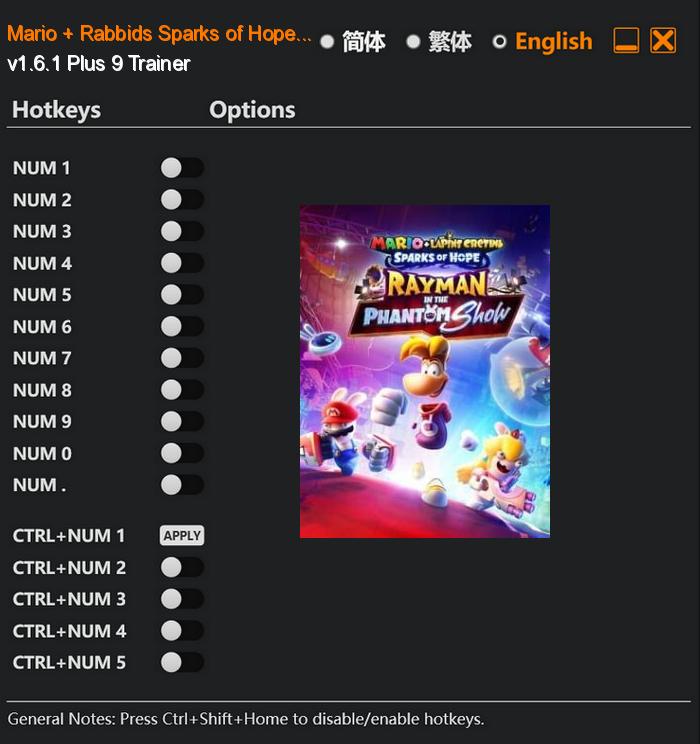 In Mario + Rabbids Sparks of Hope: Rayman in the Phantom Show, players embark on an exciting and comical adventure with Rayman, Rabbid Peach, and Rabbid Mario. This standalone storyline takes place in the Space Opera Network, a peculiar TV studio that is filled with bizarre props and hidden references for players to discover.
Throughout the game, players will unravel the secrets of the Space Opera Network as they encounter various quirky characters and familiar faces from both the Mario and Rabbids franchises. Each character brings their unique abilities and playstyles to the table, adding a layer of strategic depth to the gameplay.
Special Notes:
This is a mod, not a regular trainer.
You must enable the mod named "FLiNG Trainer Mod" in Main Menu > Mod Manager in order to use the trainer/mod (If the mod didn't show up, try close and re-enter the Mod Manager).
You must use hotkeys to enable mod/cheat options during gameplay, activating cheats outside the game's window will not work.
Download:
Medias: