A new, never-before-seen chapter in the Chinese legend of Journey to the West is about to unfold! Based on the 2015 Chinese box office record-shattering CG animated film MONKEY KING: HERO IS BACK, this adaptation pits the Great Sage himself, Sun Wukong, newly freed after 500 years of imprisonment, with Liuer, a young boy who looks up to the Monkey King in a journey that brings them close together.
Featuring new episodes not portrayed in the original film, this game combines epic, larger than life Chinese mythology with flashy and funny kung fu action for a delightful, pulse-pounding action adventure!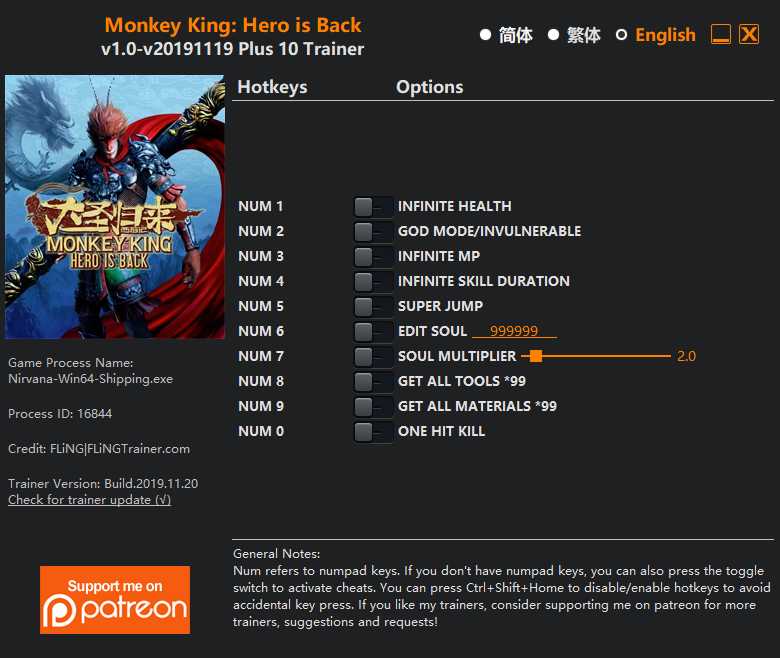 10 Options · Game Version: v1.0-v20191119+ · Last Updated: 2019.11.20
Options
Num 1 – Infinite Health
Num 2 – God Mode/Invulnerable
Num 3 – Infinite MP
Num 4 – Infinite Skill Duration
Num 5 – Super Jump
Num 6 – Edit Soul
Num 7 – Soul Multiplier
Num 8 – Get All Tools *99
Num 9 – Get All Materials *99
Num 0 – One Hit Kill
Notes
"Get All Tools *99", "Get All Materials *99" take effects when you open tools/materials menu, you'll instantly obtain all tools/materials.
Updates
2019.11.20: Support for v20191119 game version.