My Friend Pedro is a violent ballet about friendship, imagination, and one man's struggle to obliterate anyone in his path at the behest of a sentient banana. The strategic use of split aiming, slow motion, and the ol' stylish window breach create one sensational action sequence after another in an explosive battle through the violent underworld.
Full Throttle Gun Ballet: Unleash a torrent of destruction with an incredible level of control over both your weapons and your body. Twist and turn through the air while aiming both hands at priority threats or line up a perfect ricochet to drop an unsuspecting gangster from behind.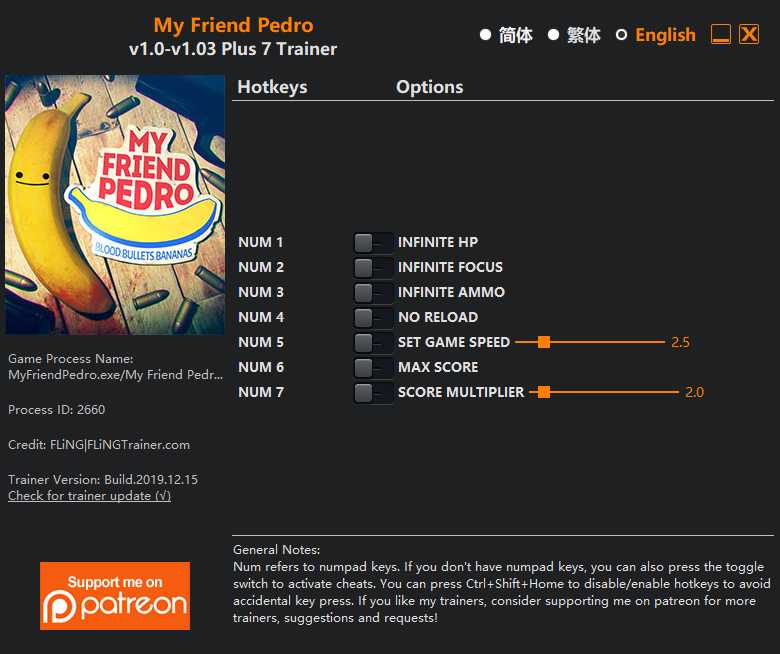 7 Options · Game Version: v1.0-v1.03+ · Last Updated: 2019.12.15
Options
Num 1 – Infinite HP
Num 2 – Infinite Focus
Num 3 – Infinite Ammo
Num 4 – No Reload
Num 5 – Set Game Speed
Num 6 – Max Score
Num 7 – Score Multiplier
Notes
The score multiplier option doesn't affect the game's own score multiplier, it multiplies the actual score you gained.
Updates
2019.12.15: Support Windows Store version; Update for v1.03 game version.