Welcome to Colombia, 1980's – the fires of El Patrón's empire have been lit, its influence spanning borders, and expansion unabated. Influence and corruption is rife; cops, guards, politicians and those in between are falling into the pocket of the Medellín Cartel, and after years of production, America is finally taking notice.
Narcos: Rise of the Cartels tells the story of the hit Netflix TV series, of the rise and fall of El Patrón. Choose your side and ally with the DEA or conversely side with the Narcos. Explore recognisable locations from the show and take a role in pivotal world-altering events and battles that will define and shift the war on drugs.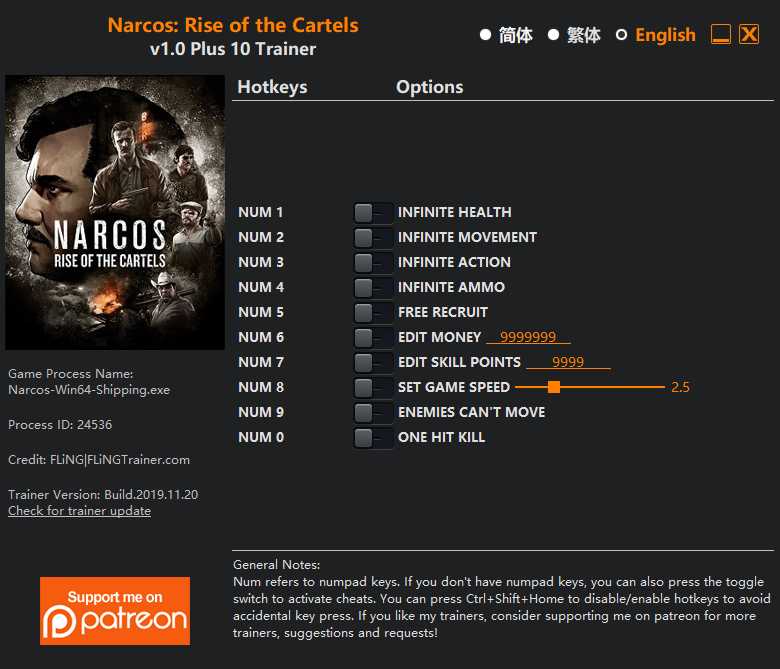 10 Options · Game Version: v1.0+ · Last Updated: 2019.11.20
Options
Num 1 – Infinite Health
Num 2 – Infinite Movement
Num 3 – Infinite Action
Num 4 – Infinite Ammo
Num 5 – Free Recruit
Num 6 – Edit Money
Num 7 – Edit Skill Points
Num 8 – Set Game Speed
Num 9 – Enemies Can't Move
Num 0 – One Hit Kill
Notes
"Infinite Movement" and "Infinite Action": If you want to end a turn, you must disable these two options, otherwise you may stuck in the middle of turns.
"Edit Money", "Edit Skill Points": When activated, switch menus to see the values change.
"Enemies Can't Move": When activated, most of the time enemies won't move/do action, but occasionally they may move or attack (for example, if you walk in front of enemies they may attack you).