A galaxy-spanning adventure awaits in Star Wars Jedi: Fallen Order, a new third-person action-adventure title from Respawn Entertainment. This narratively driven, single-player game puts you in the role of a Jedi Padawan who narrowly escaped the purge of Order 66 following the events of Episode 3: Revenge of the Sith. On a quest to rebuild the Jedi Order, you must pick up the pieces of your shattered past to complete your training, develop new powerful Force abilities and master the art of the iconic lightsaber – all while staying one step ahead of the Empire and its deadly Inquisitors.
While mastering your abilities, players will engage in cinematically charged lightsaber and Force combat designed to deliver the kind of intense Star Wars lightsaber battles as seen in the films. Players will need to approach enemies strategically, sizing up strengths and weaknesses while cleverly utilizing your Jedi training to overcome your opponents and solve the mysteries that lay in your path.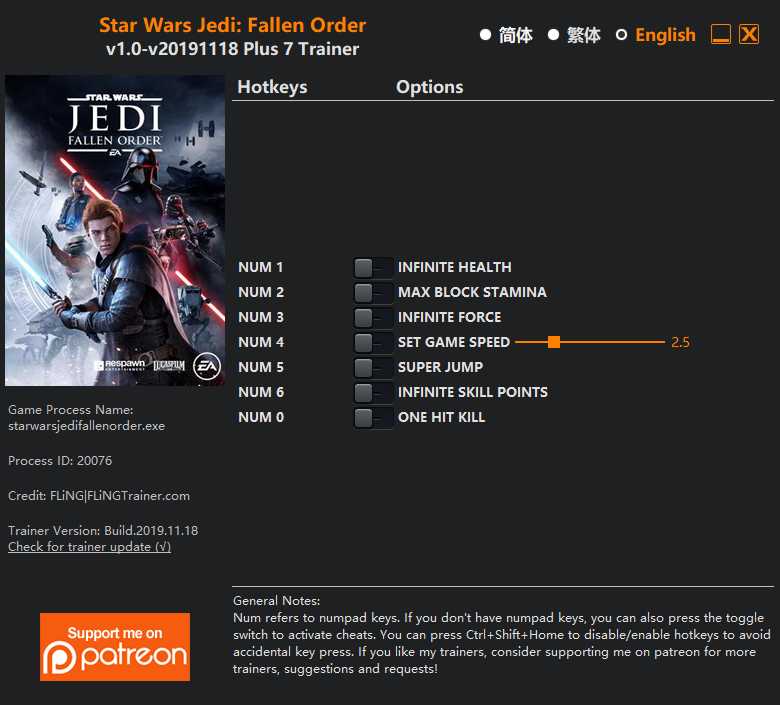 7 Options · Game Version: v1.0-v20191118+ · Last Updated: 2019.11.18
Options
Num 1 – Infinite Health
Num 2 – Max Block Stamina
Num 3 – Infinite Force
Num 4 – Set Game Speed
Num 5 – Super Jump
Num 6 – Infinite Skill Points
Num 0 – One Hit Kill
Notes
"Infinite Skill Points" takes effect when you meditate.
"One Hit Kill": There maybe cutscenes during some boss fights, if you use this option and kill the boss in one hit, you will need to reload and fight it again.