NBA 2K has evolved into much more than a basketball simulation. 2K continues to redefine what's possible in sports gaming with NBA 2K20, featuring best in class graphics & gameplay, ground breaking game modes, and unparalleled player control and customization. Plus, with its immersive open-world Neighborhood, NBA 2K20 is a platform for gamers and ballers to come together and create what's next in basketball culture.
Take your skills to the next level with the most realistic player control ever, featuring an upgraded motion engine with signature styles, advanced shooting controls, a new dribble size-up system, refined off-ball collisions, and a new read & react defensive game.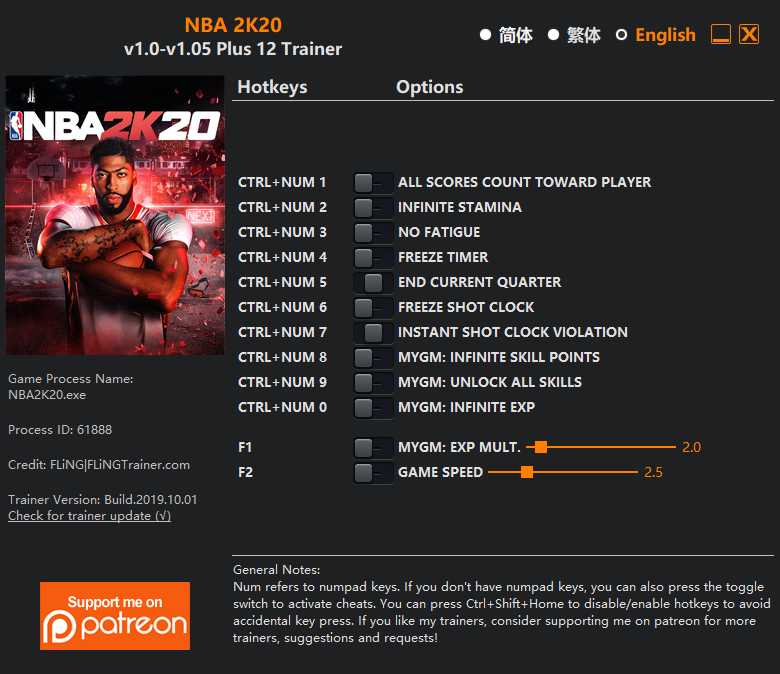 12 Options · Game Version: v1.0-v1.05+ · Last Updated: 2019.10.01
Options
Ctrl+Num 1 – All Scores Count Toward Player
Ctrl+Num 2 – Infinite Stamina
Ctrl+Num 3 – No Fatigue
Ctrl+Num 4 – Freeze Timer
Ctrl+Num 5 – End Current Quarter
Ctrl+Num 6 – Freeze Shot Clock
Ctrl+Num 7 – Instant Shot Clock Violation
Ctrl+Num 8 – MyGM: Infinite Skill Points
Ctrl+Num 9 – MyGM: Unlock All Skills
Ctrl+Num 0 – MyGM: Infinite Exp
F1 – MyGM: Exp Multiplier
F2 – Game Speed Multiplier
Notes
"All Scores Count Toward Player", whenever a score is made, it will count toward the player you're currently controlling. It won't work if you're not controlling any player.
"MyGM: Infinite Exp" takes effect when you gain Exp.
All MyGM options only work in MyGM mode, NOT MyCareer mode.
Updates
2019.10.01: Support for v1.05 game version.