Combining furious run 'n' gun action and deep, roguelike mechanics, Neon Abyss pits you as a member of 'Grim Squad' – a task force set-up by Hades himself to infiltrate the Abyss and defeat the New Gods. Death is not the end as every time you die, you'll find yourself more empowered than before.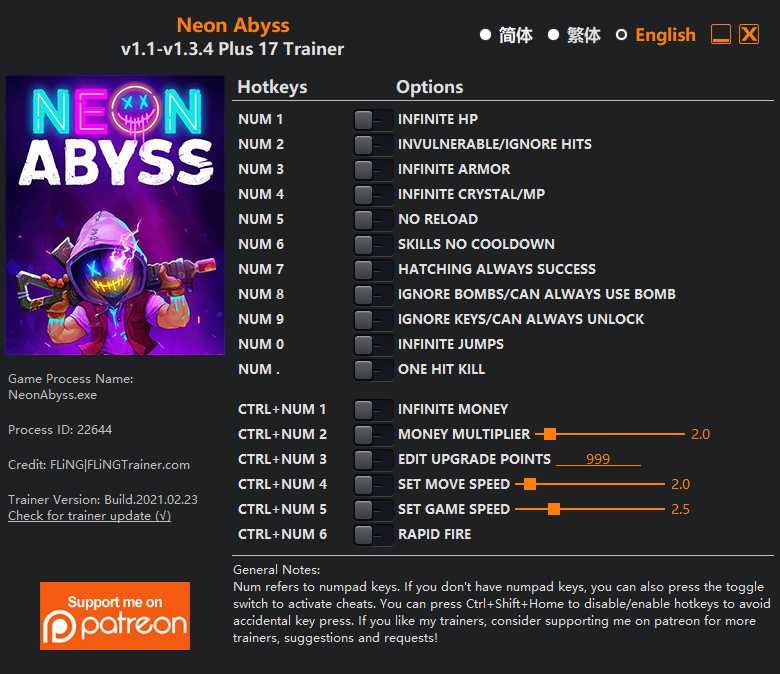 17 Options · Game Version: Steam/GOG/Windows Store v1.1-v1.3.4+ · Last Updated: 2021.02.23
Options
Num 1 – Infinite HP
Num 2 – Invulnerable/Ignore Hits
Num 3 – Infinite Armor
Num 4 – Infinite Crystal/MP
Num 5 – No Reload
Num 6 – Skills No Cooldown
Num 7 – Hatching Always Success
Num 8 – Ignore Bombs/Can Always Use Bomb
Num 9 – Ignore Keys/Can Always Unlock
Num 0 – Infinite Jumps
Num . – One Hit Kill
Ctrl+Num 1 – Infinite Money
Ctrl+Num 2 – Money Multiplier
Ctrl+Num 3 – Edit Upgrade Points
Ctrl+Num 4 – Set Move Speed
Ctrl+Num 5 – Set Game Speed
Ctrl+Num 6 – Rapid Fire
Notes
"Infinite HP" takes effect when HP drops.
"Infinite Armor" takes effect when armor drops.
"Infinite Crystal/MP" takes effect when using skill.
"Infinite Money" takes effect when picking up money.
"Skills No Cooldown": When activated, you can ignore cooldown time and use skills while cooldown.
Updates
2021.02.23: Update for v1.3.4 beta game version
2020.08.21: Update for v1.2.1 beta game version
2020.08.02: Update for v1.1.3 game version