Plague Inc: Evolved is a unique mix of high strategy and terrifyingly realistic simulation. Your pathogen has just infected 'Patient Zero' – now you must bring about the end of human history by evolving a deadly, global Plague whilst adapting against everything humanity can do to defend itself.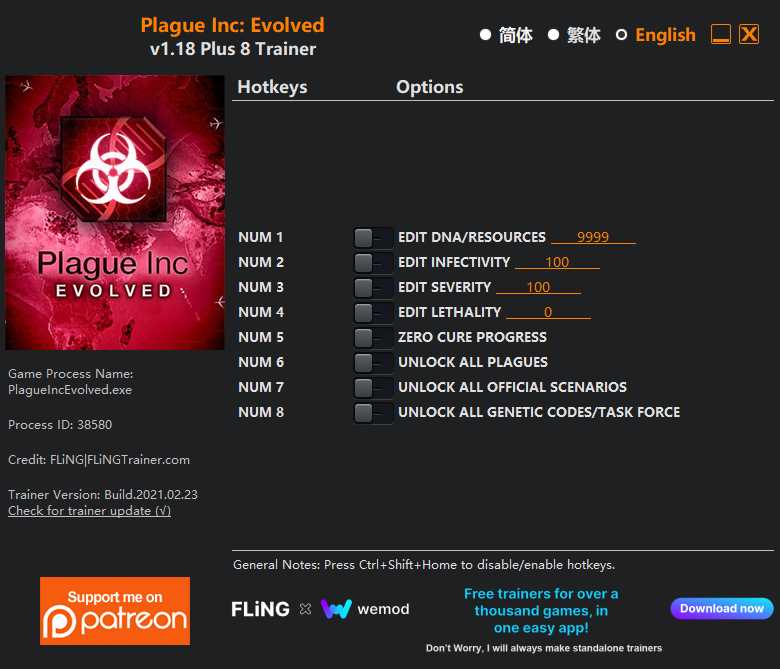 8 Options · Game Version: v1.18+ · Last Updated: 2021.02.23
Options
Num 1 – Edit DNA/Resources
Num 2 – Edit Infectivity
Num 3 – Edit Severity
Num 4 – Edit Lethality
Num 5 – Zero Cure Progress
Num 6 – Unlock All Plagues
Num 7 – Unlock All Official Scenarios
Num 8 – Unlock All Genetic Codes/Task Force
Notes
Unlock All xxx options: Activate in main menu. Note that Plagues and Genetic Codes/Task Force are temporary unlocks, Official Scenarios are permanent unlocks.
Beginning at v1.18 game version, the game has been updated to 64 bit version and the latest trainers are compatible with 64 bit game versions only. If you have 32 bit game version, you should use the older trainer version (v1.16.*).