Outward delivers an immersive RPG experience coupled with survival gameplay, offering a deeply-rewarding challenge for the most avid gamers.
As an ordinary adventurer, you'll not only have to hide or defend yourself against threatening creatures, but also brave the hazardous environmental conditions, protect yourself against infectious diseases, make sure you get enough sleep, and stay hydrated. Embark on perilous expeditions across untamed lands to reach new cities, undertake varied missions and discover hidden dungeons crawling with formidable enemies.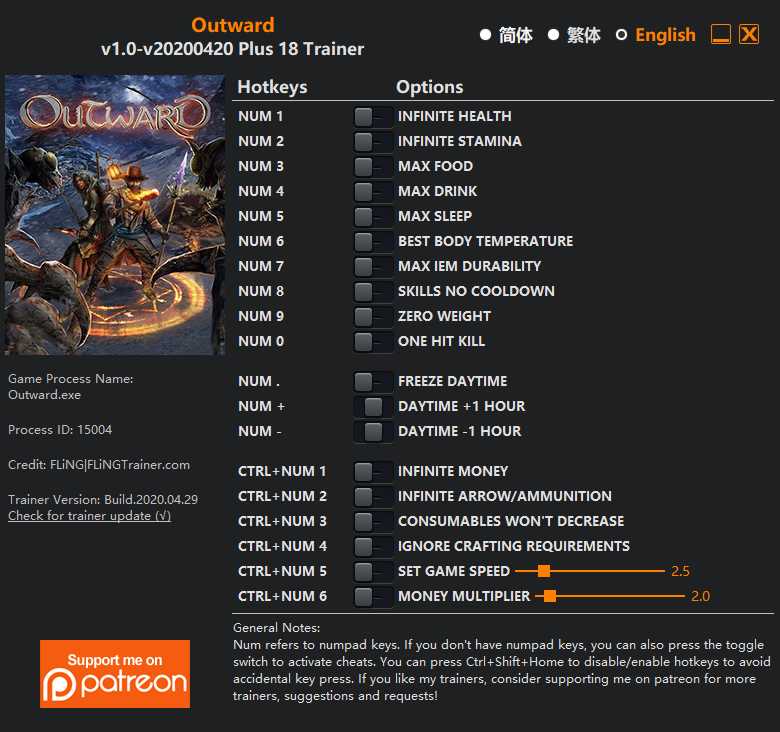 18 Options · Game Version: v1.0-v20200420+ · Last Updated: 2020.04.29
Options
Num 1 – Infinite Health
Num 2 – Infinite Stamina
Num 3 – Max Food
Num 4 – Max Drink
Num 5 – Max Sleep
Num 6 – Best Body Temperature
Num 7 – Max Item Durability
Num 8 – Skills No Cooldown
Num 9 – Zero Weight
Num 0 – One Hit Kill
Num . – Freeze Daytime
Num + – Daytime +1 Hour
Num – – Daytime -1 Hour
Ctrl+Num 1 – Infinite Money
Ctrl+Num 2 – Infinite Arrow/Ammunition
Ctrl+Num 3 – Consumables Won't Decrease
Ctrl+Num 4 – Ignore Crafting Requirements
Ctrl+Num 5 – Set Game Speed
Ctrl+Num 6 – Money Multiplier
Notes
"Zero Weight" takes effect when weight changes (pick up or drop some items).
"Infinite Arrow/Ammunition" can also work for multiple use items.
"Ignore Crafting Requirements": When activated, you can craft without materials, but if you have materials, they will be used.
Special Notes
Starting from v20200420 game version, you need to choose the default-mono game version in order to use this trainer. Please follow these steps to choose the compatible game version.
In your steam library, right click on the game – Properties – BETAS – Choose "default-mono – Public default branch (mono)" version.