Build a world for wildlife in Planet Zoo. From the developers of Planet Coaster and Zoo Tycoon comes the ultimate zoo sim, featuring authentic living animals who think, feel and explore the world you create around them. Experience a globe-trotting campaign or let your imagination run wild in the freedom of Sandbox mode. Create unique habitats and vast landscapes, make big decisions and meaningful choices, and nurture your animals as you construct and manage the world's wildest zoos.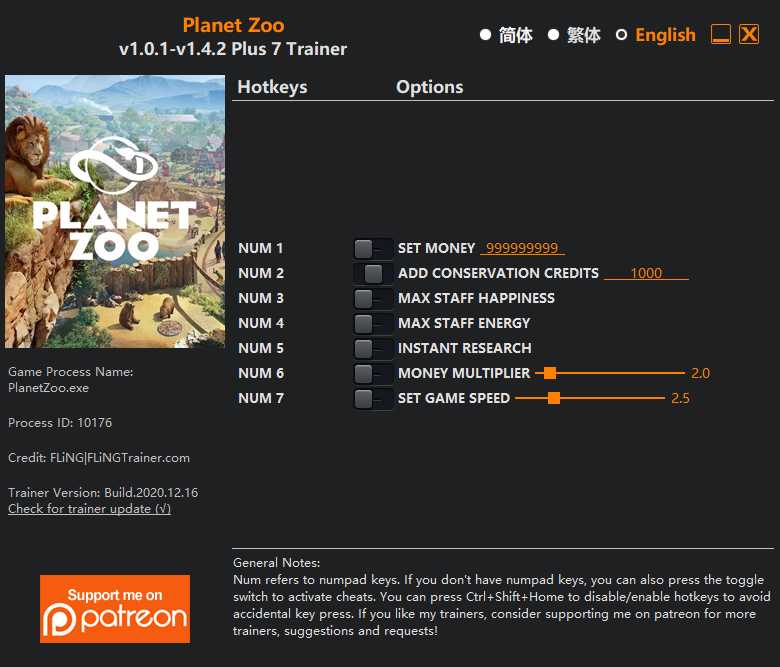 7 Options · Game Version: v1.0.1-v1.4.2+ · Last Updated: 2020.12.16
Options
Num 1 – Set Money
Num 2 – Add Conservation Credits
Num 3 – Max Staff Happiness
Num 4 – Max Staff Energy
Num 5 – Instant Research
Num 6 – Money Multiplier
Num 7 – Set Game Speed
Notes
"Add Conservation Credits", "Max Staff Happiness", "Max Staff Energy" take effects when values change.
Updates
2020.12.16: Support for v1.4.2 game version.
2020.09.01: Support for v1.3.1 game version.
2020.04.15: Support for v1.2.1 game version.
2019.12.17: Support for v1.1.0 game version.
2019.11.27: Support for v1.0.3 game version.