As part of Super Robot Wars's 25th Anniversary, Bandai Namco Entertainment announced the Super Robot Wars V game for the PlayStation 4 and the PlayStation Vita with English subtitle. The highly-anticipated RPG game is slated for a 2017 release.
Also, Super Robot Taisen V is set to include a giant list participating works — including many which are new to the Super Robot Wars series.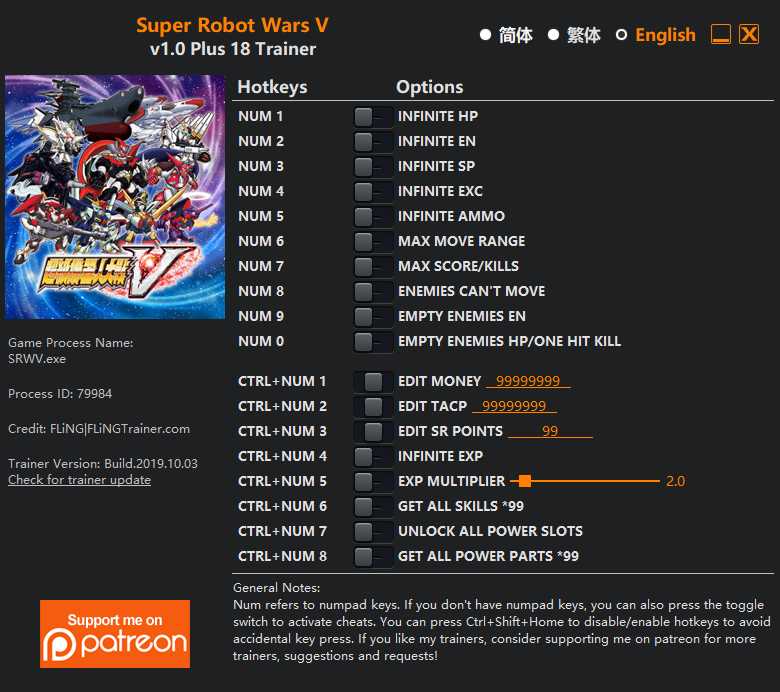 18 Options · Game Version: v1.0+ · Last Updated: 2019.10.03
Options
Num 1 – Infinite HP
Num 2 – Infinite EN
Num 3 – Infinite SP
Num 4 – Infinite ExC
Num 5 – Infinite Ammo
Num 6 – Max Move Range
Num 7 – Max Score/Kills
Num 8 – Enemies Can't Move
Num 9 – Empty Enemies EN
Num 0 – Empty Enemies HP/One Hit Kill
Ctrl+Num 1 – Edit Money
Ctrl+Num 2 – Edit TacP
Ctrl+Num 3 – Edit SR Points
Ctrl+Num 4 – Infinite Exp
Ctrl+Num 5 – Exp Multiplier
Ctrl+Num 6 – Get All Skills *99
Ctrl+Num 7 – Unlock All Power Slots
Ctrl+Num 8 – Get All Power Parts *99
Notes
"Infinite Ammo" takes effect during weapon selection; "Infinite Exp" takes effect when you gain exp.
"Max Move Range": Note if you don't have enough EN, the move range will shrink accordingly.
"Edit Money", "Edit TacP" don't freeze values, but you can use them multiple times if needed; "Edit SR Points": Anything above 99 will set back to 99.
"Get All Skills *99": When you enter skill tree or skill program menu and selected a category, you will instantly gain all skills in that category. Note if you don't already have special skills, they will only appear in skill tree menu, so you will need to go to skill tree menu to get them.
"Get All Power Parts *99": Activate before selecting robot in power parts menu, if you activate after selecting robot, you will need to re-select robot for it to work.