Discover the epic conclusion of the Mishima clan and unravel the reasons behind each step of their ceaseless fight. Powered by Unreal Engine 4, TEKKEN 7 features stunning story-driven cinematic battles and intense duels that can be enjoyed with friends and rivals alike through innovative fight mechanics.
Love, Revenge, Pride. Everyone has a reason to fight. Values are what define us and make us human, regardless of our strengths and weaknesses. There are no wrong motivations, just the path we choose to take.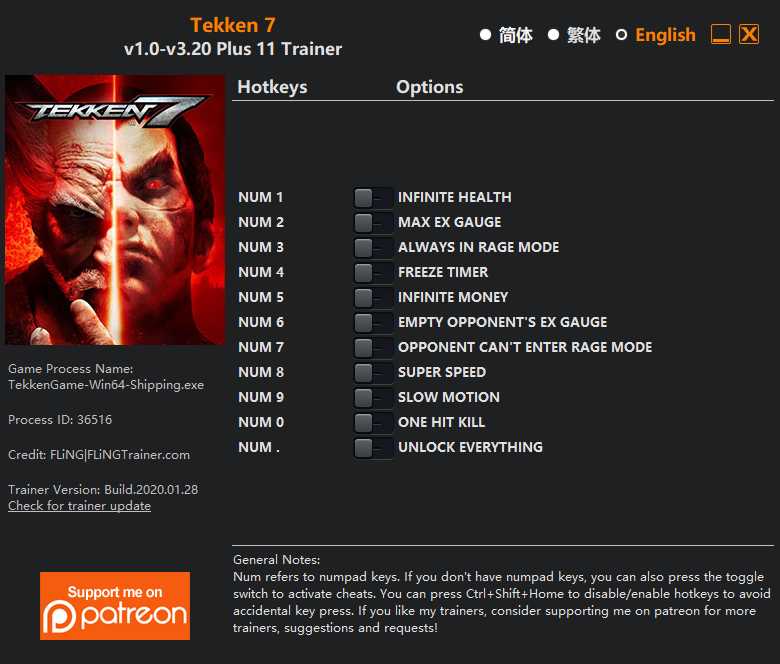 11 Options · Game Version: v1.0-v3.20 · Last Updated: 2020.01.28
Options
Num 1 – Infinite Health
Num 2 – Max EX Gauge
Num 3 – Always In Rage Mode
Num 4 – Freeze Timer
Num 5 – Infinite Money
Num 6 – Empty Opponent's EX Gauge
Num 7 – Opponent Can't Enter Rage Mode
Num 8 – Super Speed
Num 9 – Slow Motion
Num 0 – One Hit Kill
Num . – Unlock Everything
Notes
"Infinite Money" takes effect when you spend money.
"One Hit Kill": note in story mode there might be cutscenes during some fights, using one hit kill will not trigger these cutscenes, you'll need to disable this option and start the fight again.
"Unlock Everything" takes effect when you go to main menu (if you're already in main menu when activating this option, then go to other menu and go back to main menu). This option unlocks everything except DLC items that you don't own.