For countless years the villagers of Vamp'Ire have enjoyed a life of peace and happiness. But now, rumors are spreading about a wielder of dark magic – a Witchmaster. Fearing the rumors to be true, the village musters a militia to prepare for the worst. You are a recruit enrolling to defend the village. Little do you know, fate has something special in store for you…
Vampire's Fall: Origins is a 2D open-world RPG with tactical combat. Create your character, choose your bloodline and venture out into the world. Will you wreck havoc in the land, or be the hero people are longing for?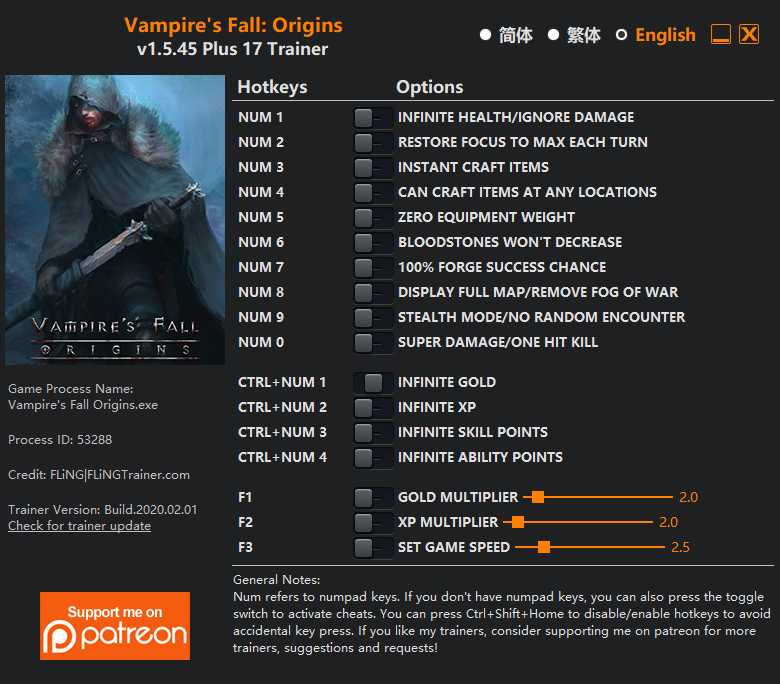 17 Options · Game Version: v1.5.45 · Last Updated: 2020.02.01
Options
Num 1 – Infinite Health/Ignore Damage
Num 2 – Restore Focus To Max Each Turn
Num 3 – Instant Craft Items
Num 4 – Can Craft Items At Any Locations
Num 5 – Zero Equipment Weight
Num 6 – Bloodstones Won't Decrease
Num 7 – 100% Forge Success Chance
Num 8 – Display Full Map/Remove Fog of War
Num 9 – Stealth Mode/No Random Encounter
Num 0 – Super Damage/One Hit Kill
Ctrl+Num 1 – Infinite Gold
Ctrl+Num 2 – Infinite XP
Ctrl+Num 3 – Infinite Skill Points
Ctrl+Num 4 – Infinite Ability Points
F1 – Gold Multiplier
F2 – XP Multiplier
F3 – Set Game Speed
Notes
"Infinite Health/Ignore Damage": note certain battles may require you to lose (for example, the first boss fight), you should disable this option in those battles.
"Instant Craft Items": Activate before crafting items. Note: crafting bloodstones with this option will not work properly (you'll get 0 bloodstone).
"Stealth Mode/No Random Encounter": note some side quests will require you to fight monster in random encounter, you may want to disable this option when necessary.
"Infinite Gold" takes effect when gold value changes.
"Infinite XP" takes effect when you gain XP.
"Infinite Skill Points" and "Infinite Ability Points": when activated, you'll have 99 skill/ability points, when you disable these options, your skill/ability points will restore to normal and may become negative, this is normal.
"Gold Multiplier" and "XP Multiplier": the display values are not affected, the actual amount of gold/XP you're getting are multiplied.