Experience the events leading up to the decisive final battle for the fate of mankind in the war against the machines. Terminator: Resistance, is a first-person shooter set during the 'Future War' scenario that was only glimpsed at in the iconic films, 'THE TERMINATOR' and 'T2: JUDGMENT DAY'. The machines are destined to lose, but at what cost?
Run and gun or sneak and hack through Skynet's defences!
Level up your skills and explore a post-apocalyptic world for scraps to trade and craft!
Interact with a motley group of survivors and change their fates!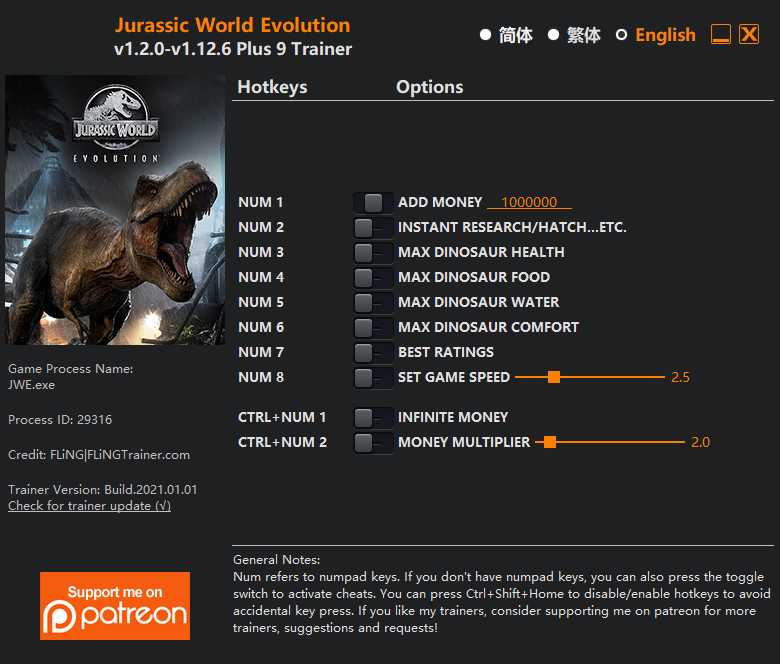 13 Options · Game Version: v1.027-v1.050+ · Last Updated: 2021.01.01
Options
Num 1 – Infinite Health
Num 2 – Infinite Ammo/Items
Num 3 – No Reload
Num 4 – Super Accuracy
Num 5 – No Recoil
Num 6 – Stealth Mode
Num 7 – Set Game Speed
Num 0 – One Hit Kill
Ctrl+Num 1 – Edit Money
Ctrl+Num 2 – Edit Skill Points
Ctrl+Num 3 – Edit Inventory Size
Ctrl+Num 4 – Infinite Exp
Ctrl+Num 5 – Exp Multiplier
Notes
"Infinite Ammo/Items" takes effect when item quantity decreases, note if item quantity decreases to 0 (e.g. if you drop/sell all of it), it will be removed from inventory.
"Stealth Mode": While activated, enemies will still see you but they won't attack you unless you attack them first or detected by too many enemies.
"Edit Money", "Edit Skill Points", "Edit Inventory Size" take effects when you open menu.
"Infinite Exp" takes effect when you gain exp.
"Exp Multiplier": The display value of exp gain is not affected but the actual amount of exp gain will be multiplied.
Updates
2021.01.01: Update for v1.050 game version.