With the help of over 18,000 Kickstarter backers, Narrative Designer Chris Avellone and composer Inon Zur, Owlcat Games is proud to bring you the first isometric computer RPG set in the beloved Pathfinder tabletop universe. Enjoy a classic RPG experience inspired by games like Baldur's Gate, Fallout 1 and 2 and Arcanum. Explore and conquer the Stolen Lands and make them your kingdom!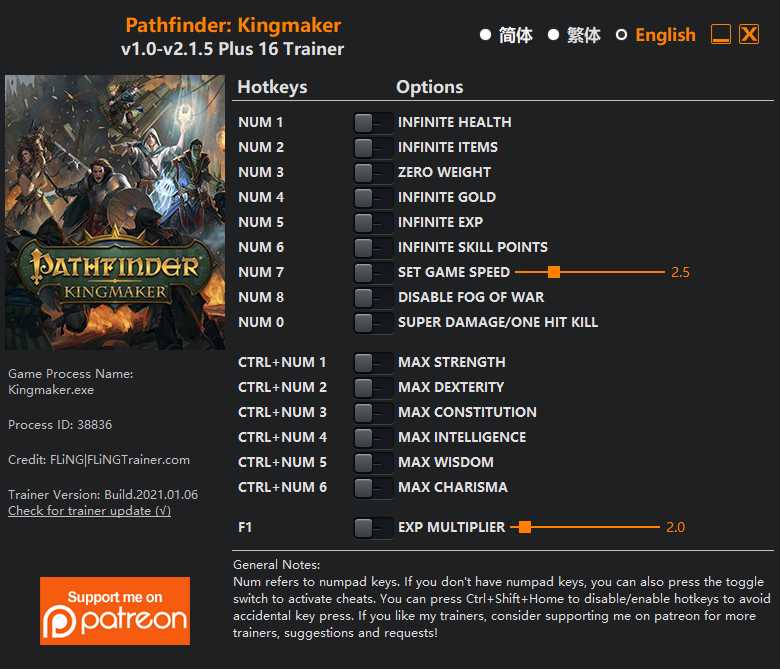 16 Options · Game Version: v1.0-v2.1.5+ · Last Updated: 2021.01.06
Options
Num 1 – Infinite Health
Num 2 – Infinite Items
Num 3 – Zero Weight
Num 4 – Infinite Gold
Num 5 – Infinite Exp
Num 6 – Infinite Skill Points
Num 7 – Set Game Speed
Num 8 – Disable Fog Of War
Num 0 – Super Damage/One Hit Kill
Ctrl+Num 1 – Max Strength
Ctrl+Num 2 – Max Dexterity
Ctrl+Num 3 – Max Constitution
Ctrl+Num 4 – Max Intelligence
Ctrl+Num 5 – Max Wisdom
Ctrl+Num 6 – Max Charisma
F1 – Exp Multiplier
Notes
"Infinite Gold" takes effect when you open inventory.
"Infinite Exp" takes effect when you gain exp.
"Infinite Skill Points": Takes effect when you spend skill points. Note: Only activate this option when you're in skill level up menu, otherwise it will skip skill level up.
Max xxx attributes options are temporary, attributes will restore to normal after deactivating these options.
Updates
2021.01.16: Update for v2.1.5 game version.