Dig, Fight, Explore, Build: The very world is at your fingertips as you fight for survival, fortune, and glory. Will you delve deep into cavernous expanses in search of treasure and raw materials with which to craft ever-evolving gear, machinery, and aesthetics? Perhaps you will choose instead to seek out ever-greater foes to test your mettle in combat? Maybe you will decide to construct your own city to house the host of mysterious allies you may encounter along your travels?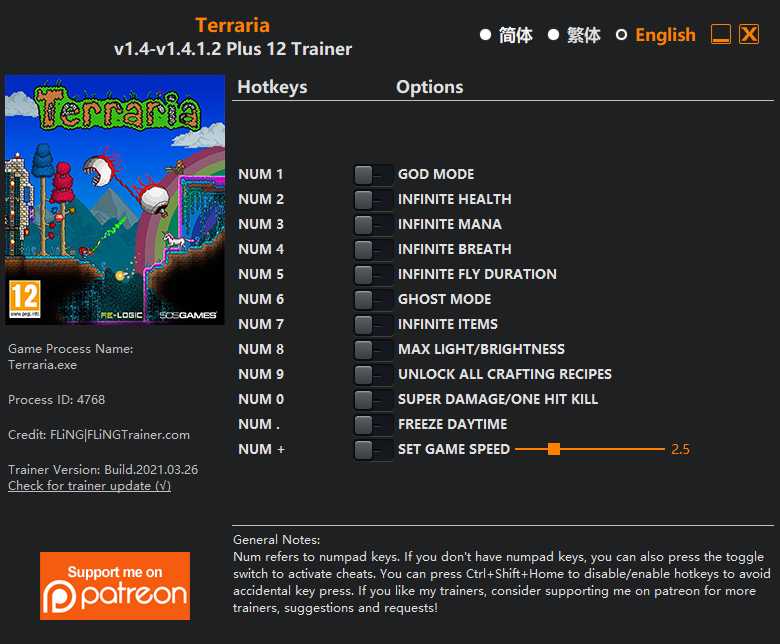 12 Options · Game Version: v1.4-v1.4.1.2+ · Last Updated: 2021.03.26
Options
Num 1 – God Mode
Num 2 – Infinite Health
Num 3 – Infinite Mana
Num 4 – Infinite Breath
Num 5 – Infinite Fly Duration
Num 6 – Ghost Mode
Num 7 – Infinite Items
Num 8 – Max Light/Brightness
Num 9 – Unlock All Crafting Recipes
Num 0 – Super Damage/One Hit Kill
Num . – Freeze Daytime
Num + – Set Game Speed
Notes
"God Mode": When activated, player will ignore damage collision, but you may still receive damage from lava,

suffocation

, poison, etc.
"Infinite Items" will set your items quantity to max stackable count, or max stackable count -10 if the max stackable count is greater than 99 to prevent it generates new stack every time you pick up something, if you need more than 1 stack of specific item, you can split the stack and both stacks will also have max quantity.
Updates
2021.03.26: Update for v1.4.1.2 game version.