In Yakuza 6, Kazuma Kiryu will find out exactly how much people are willing to sacrifice for family – be those ties through blood or bond – when he investigates a series of shadowy events that involve the ones he holds closest to his heart. Fresh out of a three-year prison sentence, an older and weathered Kiryu comes to find out that his surrogate daughter, Haruka, has gone missing from the orphanage he looks after. The trail leads him to his old stomping grounds in Kamurocho, where he discovers that she has been struck by a car and now lies in a coma. To make matters worse, Kiryu learns that Haruka now has a son that he must look after. With baby in hand, Kiryu journeys to the seaside town of Onomichi, Hiroshima to unravel the truth about Haruka, her son, and a sinister secret that the Hiroshima yakuza are harboring.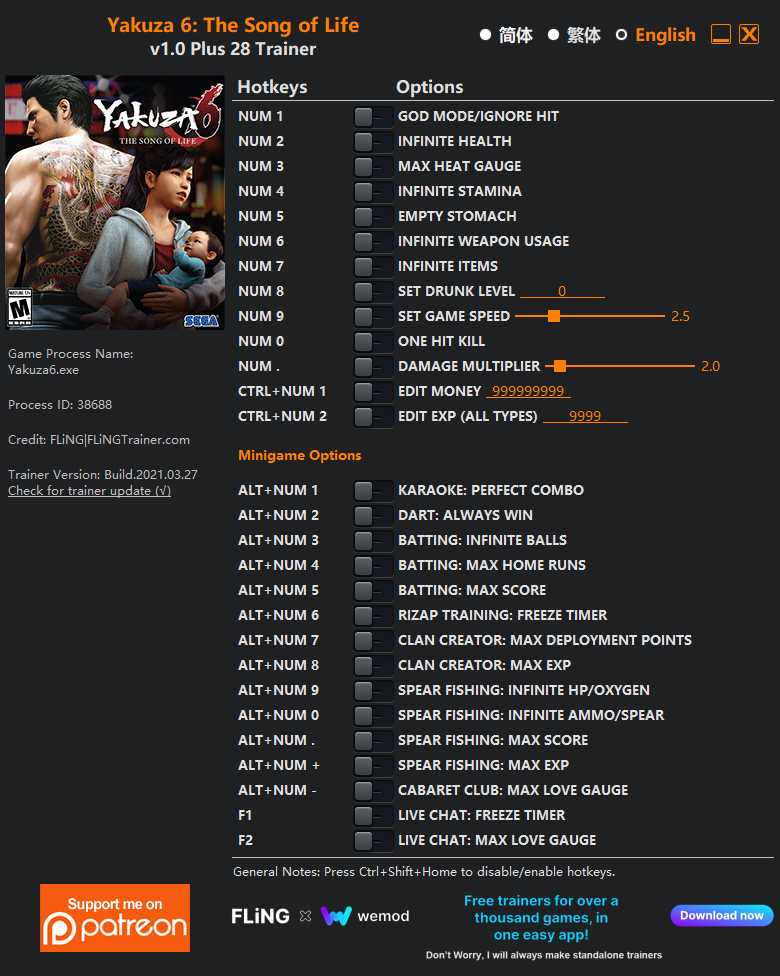 28 Options · Game Version: Steam/Windows Store v1.0+ · Last Updated: 2021.03.27
Options
Num 1 – God Mode/Ignore Hit
Num 2 – Infinite Health
Num 3 – Max Heat Gauge
Num 4 – Infinite Stamina
Num 5 – Empty Stomach
Num 6 – Infinite Weapon Usage
Num 7 – Infinite Items
Num 8 – Set Drunk Level
Num 9 – Set Game Speed
Num 0 – One Hit Kill
Num . – Damage Multiplier
Ctrl+Num 1 – Edit Money
Ctrl+Num 2 – Edit EXP (All Types)
Minigame Options
Alt+Num 1 – Karaoke: Perfect Combo
Alt+Num 2 – Dart: Always Win
Alt+Num 3 – Batting: Infinite Balls
Alt+Num 4 – Batting: Max Home Runs
Alt+Num 5 – Batting: Max Score
Alt+Num 6 – RIZAP Training: Freeze Timer
Alt+Num 7 – Clan Creator: Max Deployment Points
Alt+Num 8 – Clan Creator: Max Exp
Alt+Num 9 – Spear Fishing: Infinite HP/Oxygen
Alt+Num 0 – Spear Fishing: Infinite Ammo/Spear
Alt+Num . – Spear Fishing: Max Score
Alt+Num + – Spear Fishing: Max Exp
Alt+Num – – Cabaret Club: Max Love Gauge
F1 – Live Chat: Freeze Timer
F2 – Live Chat: Max Love Gauge
Notes
"Infinite Items": Takes effect when item quantity changes.
"Empty Stomach": Takes effect when you walk.