The Sinking City is an action-adventure game developed by Frogwares and inspired by the works of horror fiction author H. P. Lovecraft. Set in the fictional city of Oakmont, Massachusetts during the 1920s, the story follows private investigator and war veteran Charles W. Reed as he searches for clues to the cause of the terrifying visions plaguing him, and becomes embroiled in the mystery of Oakmont's unrelenting flooding.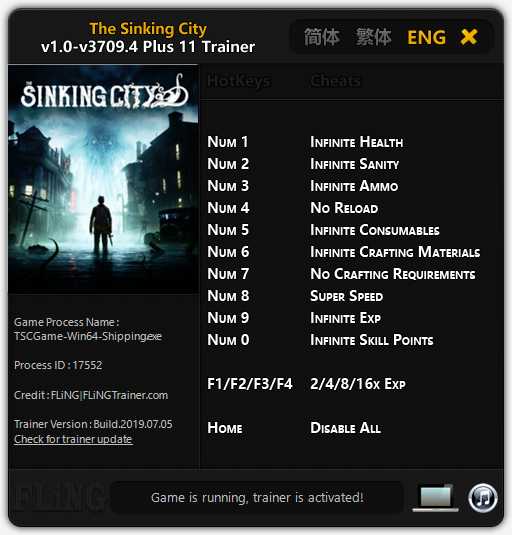 11 Options · Game Version: v1.0-v3709.4+ · Last Updated: 2019.07.05Options
Num 1 – Infinite Health
Num 2 – Infinite Sanity
Num 3 – Infinite Ammo
Num 4 – No Reload
Num 5 – Infinite Consumables
Num 6 – Infinite Crafting Materials
Num 7 – No Crafting Requirements
Num 8 – Super Speed
Num 9 – Infinite Exp
Num 0 – Infinite Skill Points
F1/F2/F3/F4 – 2/4/8/16x Exp
Home – Disable All
Notes
"Infinite Crafting Materials" works on materials that you already have.
When "No Crafting Requirements" is activated, if you want to disable this option later, you will need to restart the game to restore the effects.
"Infinite Exp" take effect when you gain EXP.
When "No Reload" is activated, the total ammo will still decrease although you don't need to reload. You can use "Infinite Ammo" to lock the total ammo.
Updates
2019.07.05: Support v3709.4 game version.