Call down your Titan and get ready for an exhilarating first-person shooter experience in Titanfall® 2! The sequel introduces a new single player campaign that explores the bond between Pilot and Titan. Or blast your way through an even more innovative and intense multiplayer experience – featuring 6 new Titans, deadly new Pilot abilities, expanded customization, new maps, modes, and much more.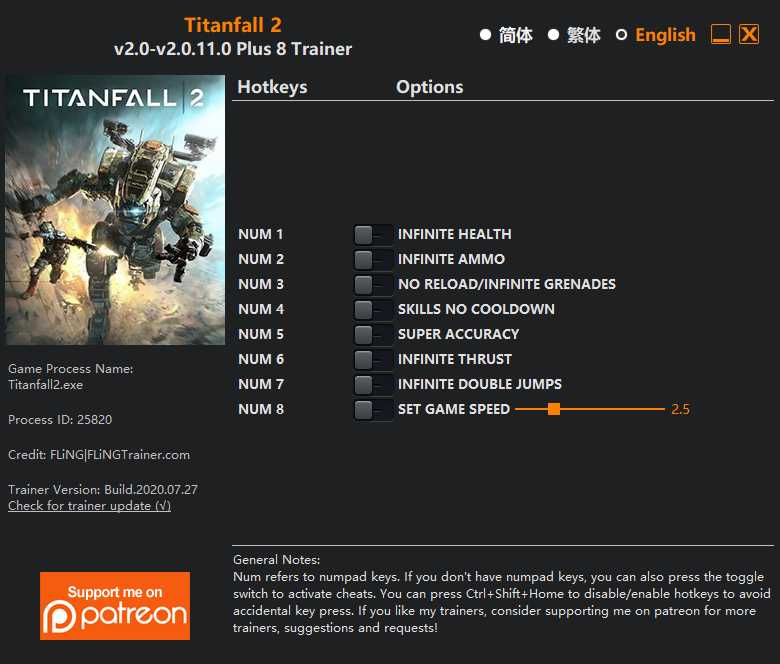 8 Options · Game Version: v2.0-v2.0.11.0+ · Last Updated: 2020.07.27
Options
Num 1 – Infinite Health
Num 2 – Infinite Ammo
Num 3 – No Reload/Infinite Grenades
Num 4 – Skills No Cooldown
Num 5 – Super Accuracy
Num 6 – Infinite Thrust
Num 7 – Infinite Double Jumps
Num 8 – Set Game Speed
Notes
"No Reload/Infinite Grenades": You must have more than 1 ammo/grenade for it to work.
Updates
2020.07.27: Update for v2.0.11.0 game version; Supports Steam game version.