Play as Marcus Holloway, a brilliant young hacker living in the birthplace of the tech revolution, the San Francisco Bay Area.
Team up with Dedsec, a notorious group of hackers, to execute the biggest hack in history; take down ctOS 2.0, an invasive operating system being used by criminal masterminds to monitor and manipulate citizens on a massive scale.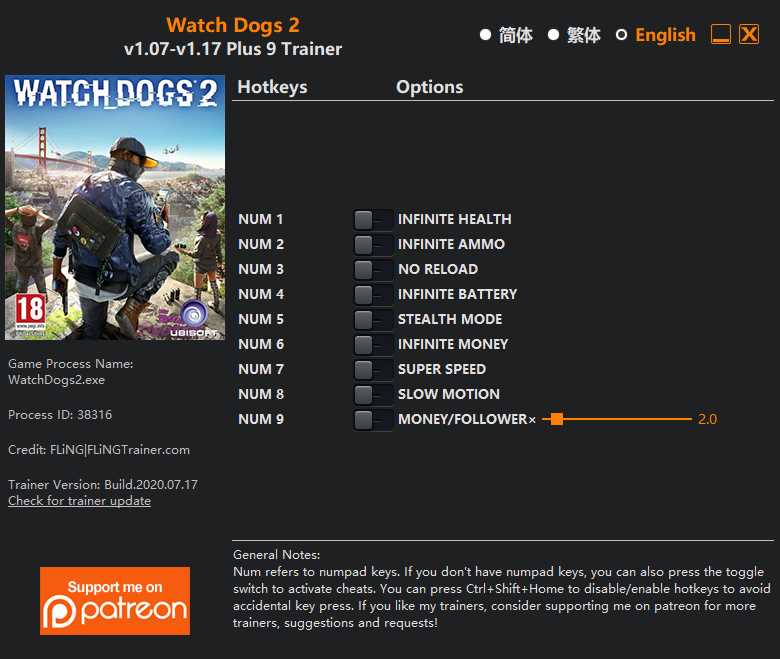 9 Options · Game Version: v1.07-v1.17+ · Last Updated: 2020.07.17
Options
Num 1 – Infinite Health
Num 2 – Infinite Ammo
Num 3 – No Reload
Num 4 – Infinite Battery
Num 5 – Stealth Mode
Num 6 – Infinite Money
Num 7 – Super Speed
Num 8 – Slow Motion
Num 9 – Money/Follower Multiplier
Notes
"Stealth Mode": When activated, you're invisible to enemies, but if you attack them or open fire near them, you'll still be detected.
Special Notes
This game uses EasyAntiCheat protection, in order to launch this game without EAC, please follow these instructions:
Method 1:
1. Copy "EAC.exe"to game directory. (If you have Uplay+ version, go to "Uplay+" folder and copy Uplay+ version's "EAC.exe" to game directory instead)
2. Start game.
Method 2: Set launch parameter -eac_launcher for the game on steam/uplay before launching the game.