This is an action game in which players assume the role of Ken Kaneki, a human investigator with the abilities of a ghoul. From a third-person perspective, players battle ghouls and boss characters in frenetic combat. Characters use tentacles and various weapons (e.g., clubs, swords, guns, grenades) to kill enemies in melee and ranged attacks. Battles are highlighted by frequent blood-splatter effects, cries of pain, realistic gunfire, and explosions. One ghoul is depicted wearing lingerie with deep cleavage, and is described as the "Nutcracker, due to her strange appetite for men's testicles." The word "a*shole" appears in the dialogue.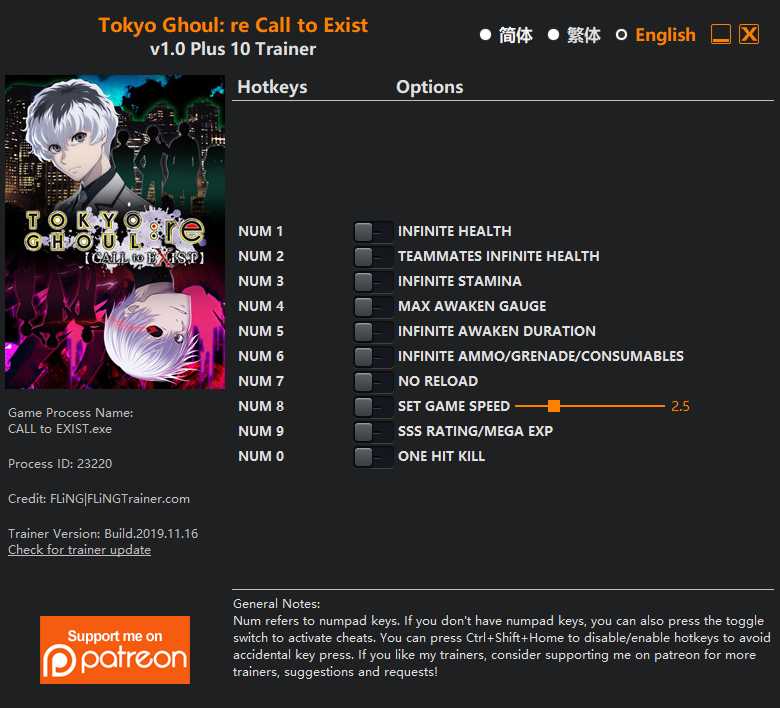 10 Options · Game Version: v1.0+ · Last Updated: 2019.11.16
Options
Num 1 – Infinite Health
Num 2 – Teammates Infinite Health
Num 3 – Infinite Stamina
Num 4 – Max Awaken Gauge
Num 5 – Infinite Awaken Duration
Num 6 – Infinite Ammo/Grenade/Consumables
Num 7 – No Reload
Num 8 – Set Game Speed
Num 9 – SSS Rating/Mega Exp
Num 0 – One Hit Kill
Notes
"Infinite Ammo/Grenade/Consumables" takes effect when ammo/grenade/consumables quantities decrease.
"SSS Rating/Mega Exp" takes effect when killing enemies, you'll gain lots of exp after completing the level.