Trials of Mana is the 3D remake of the hit classic RPG released in 1995 as Seiken Densetsu 3.
This daring tale of overcoming the tests of fate has been given new life! Experience the beloved adventure fully modernized with graphic improvements, character voiceover support, a remastered soundtrack and a new episode which you can experience after the ending, in addition to an ability system and a new class that reconstructs the character levelling system plus more active battles!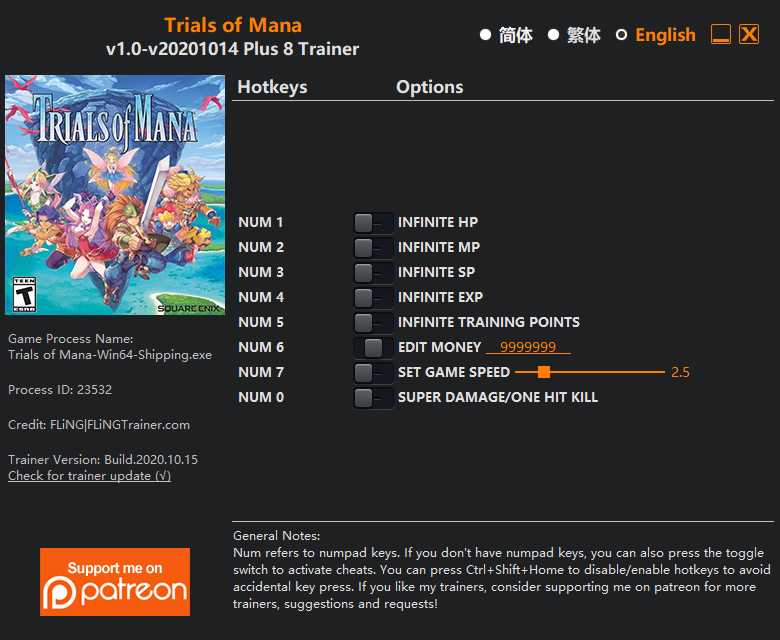 8 Options · Game Version: v1.0-v20201014+ · Last Updated: 2020.10.15
Options
Num 1 – Infinite HP
Num 2 – Infinite MP
Num 3 – Infinite SP
Num 4 – Infinite Exp
Num 5 – Infinite Training Points
Num 6 – Edit Money
Num 7 – Set Game Speed
Num 0 – Super Damage/One Hit Kill
Notes
"Infinite Training Points" enter the training menu to see the value change. Note when leveling up or loading save file, training points may reset to normal or 0, you can use this option again to get training points.
Updates
2020.10.15: Update for v20201014 game version.
2020.08.28: Update for v20200826 game version.