Crown Trick is a beautifully animated rogue-like RPG adventure characterized by turn-based combat and skill-item interactive strategy. Enter a labyrinth that moves as you move, where mastering the elements is key to defeating enemies and uncovering the mysteries of this underground world. With a new experience awaiting every time you enter the dungeon, let the power bestowed by the crown guide you in this challenging adventure!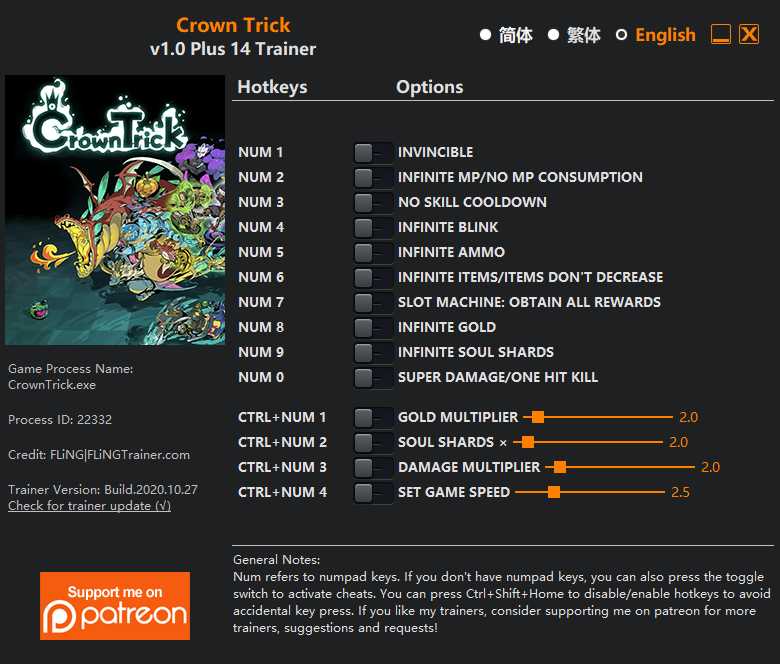 14 Options · Game Version: v1.0+ · Last Updated: 2020.10.27
Options
Num 1 – Invincible
Num 2 – Infinite MP/No MP Consumption
Num 3 – No Skill Cooldown
Num 4 – Infinite Blink
Num 5 – Infinite Ammo
Num 6 – Infinite Items/Items Don't Decrease
Num 7 – Slot Machine: Obtain All Rewards
Num 8 – Infinite Gold
Num 9 – Infinite Soul Shards
Num 0 – Super Damage/One Hit Kill
Ctrl+Num 1 – Gold Multiplier
Ctrl+Num 2 – Soul Shards Multiplier
Ctrl+Num 3 – Damage Multiplier
Ctrl+Num 4 – Set Game Speed
Notes
"Invincible": When activated, enemies and traps will deal no damage to the player, but if you fall out of the map you'll receive damage.
"No Skill Cooldown": Activated before using skill.
"Infinite Gold" and "Infinite Soul Shards" take effects when you gain or spend gold/soul shards.