Play on large archipelagos for the first time in the series. Manage multiple islands at the same time and adapt to various new challenges.
Send your agents on raids to foreign lands to steal world wonders and monuments, to add them to your collection.
Build bridges, construct tunnels and transport your citizens and tourists in taxis, buses and aerial cable cars. Tropico 6 offers completely new transportation and infrastructure possibilities.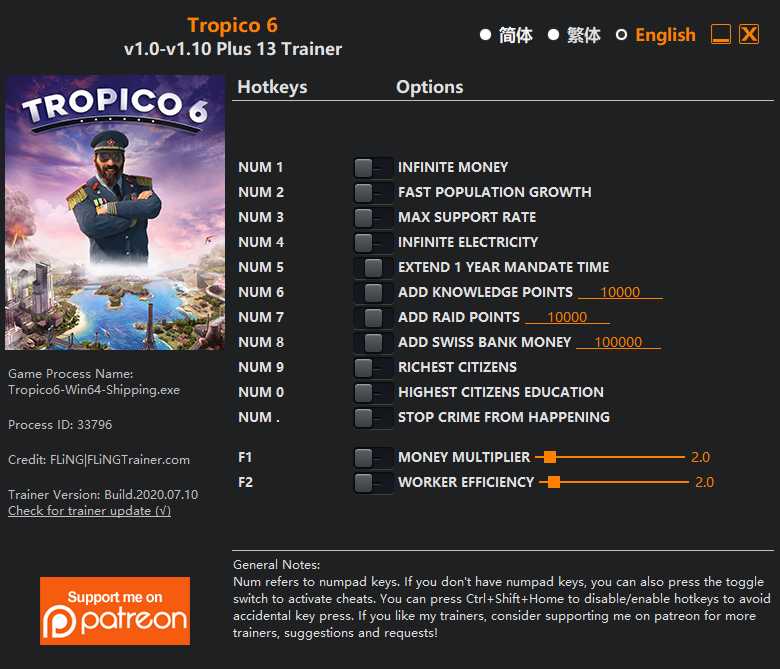 13 Options · Game Version: v1.0-v1.10 · Last Updated: 2020.07.10
Options
Num 1 – Infinite Money
Num 2 – Fast Population Growth
Num 3 – Max Support Rate
Num 4 – Infinite Electricity
Num 5 – Extend 1 Year Mandate Time
Num 6 – Add Knowledge Points
Num 7 – Add Raid Points
Num 8 – Add Swiss Bank Money
Num 9 – Richest Citizens
Num 0 – Highest Citizens Education
Num . – Stop Crime From Happening
F1 – Money Multiplier
F2 – Worker Efficiency Multiplier
Notes
"Infinite Money" takes effect when the money value updates (there may be some delay for it to update).
"Max Support Rate": When activated, your support rate will slowly increase to 100%.
"Infinite Electricity": When activated, each power plant generates 1 million watts of electricity. It won't work if you don't have any power plants.
"Worker Efficiency Multiplier": If you don't want some buildings to have this effect, set its budget to the lowest tier to exclude it from this option.
Updates
2020.07.10: Update for v1.10 game version.