Konami Digital Entertainment continues forth the 'METAL GEAR SOLID V Experience' with the latest chapter, METAL GEAR SOLID V: The Phantom Pain. Ushering in a new era for the franchise with cutting-edge technology powered by the Fox Engine, MGSV: The Phantom Pain will provide players a first-rate gaming experience as they are offered tactical freedom to carry out open-world missions.
Nine years after the events of MGSV: GROUND ZEROES and the fall of Mother Base, Snake a.k.a. Big Boss, awakens from a nine year coma. The year is 1984. The Cold War serves as the backdrop as nuclear weapons continue to shape a global crisis. Driven by revenge, Snake establishes a new private army and returns to the battlefield in pursuit of the shadow group, XOF.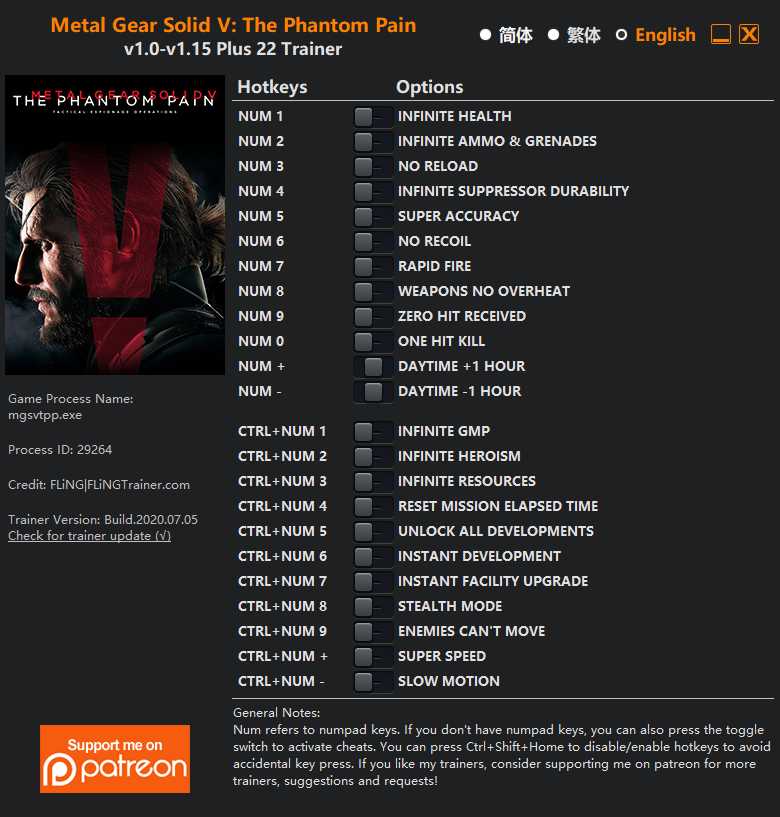 22 Options · Game Version: v1.0-v1.15+ · Last Updated: 2020.07.05
Options
Num 1 – Infinite Health
Num 2 – Infinite Ammo & Grenades
Num 3 – No Reload
Num 4 – Infinite Suppressor Durability
Num 5 – Super Accuracy
Num 6 – No Recoil
Num 7 – Rapid Fire
Num 8 – Weapons No Overheat
Num 9 – Zero Hit Received
Num 0 – One Hit Kill
Num + – Daytime +1 Hour
Num – – Daytime -1 Hour
Ctrl+Num 1 – Infinite GMP
Ctrl+Num 2 – Infinite Heroism
Ctrl+Num 3 – Infinite Resources
Ctrl+Num 4 – Reset Mission Elapsed Time
Ctrl+Num 5 – Unlock All Developments
Ctrl+Num 6 – Instant Development
Ctrl+Num 7 – Instant Facility Upgrade
Ctrl+Num 8 – Stealth Mode
Ctrl+Num 9 – Enemies Can't Move
Ctrl+Num + – Super Speed
Ctrl+Num – – Slow Motion
Notes
"Zero Hit Received" takes effect when you receive hit.
"Infinite Resources" works for resources that you currently owned.
"Unlock All Developments": after activating this option, enter a mission or return to base for it to take effects.
"Stealth Mode": If activates during a fight, you'll need to escape/finish the fight for it to work. Note this option doesn't work for animals and helicopters.
Updates
2020.07.05: Update for v1.15 game version.