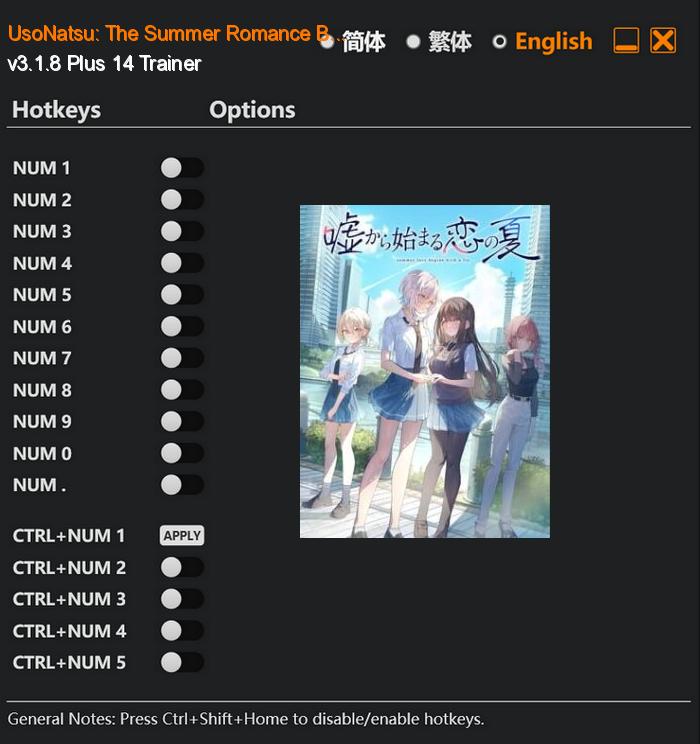 UsoNatsu: The Summer Romance Bloomed From a Lie is a captivating visual novel that explores the turbulent emotions of love, deception, and self-discovery. Set in the idyllic town of Minatocho, players will embark on a heartfelt journey through the hazy days of summer, navigating the intricate web of relationships that intertwine the lives of its characters.
The game primarily revolves around Tachibana Kaoru, a second-year student at Aoba Dai-ichi High School, and her chance encounter with Minagi Shiori, a model student who becomes a confidante and ally. Devastated by her past experiences with her middle school homeroom teacher, Shimotsuki Mirei, Kaoru unveils her deepest secrets to Shiori, hoping to find solace and a way to move on. As the two girls grow closer, Shiori proposes an audacious plan: to overwrite their painful memories with new ones, in order to escape the clutches of their past.
Special Notes:
This is a mod, not a regular trainer.
You must enable the mod named "FLiNG Trainer Mod" in Main Menu > Mod Manager in order to use the trainer/mod (If the mod didn't show up, try close and re-enter the Mod Manager).
You must use hotkeys to enable mod/cheat options during gameplay, activating cheats outside the game's window will not work.
Download:
Medias: