Build a resistance from virtually anyone you see as you hack, infiltrate, and fight to take back a near-future London that is facing its downfall. Welcome to the Resistance.
Recruit and play as anyone in the city. Everyone you see has a unique backstory, personality, and skill set.
Hack armed drones, deploy spider-bots, and take down enemies using an Augmented Reality Cloak.
Explore a massive urban open world featuring London's many iconic landmarks and fun side activities.
Take the resistance one step further and fight with your friends in new missions in Online mode.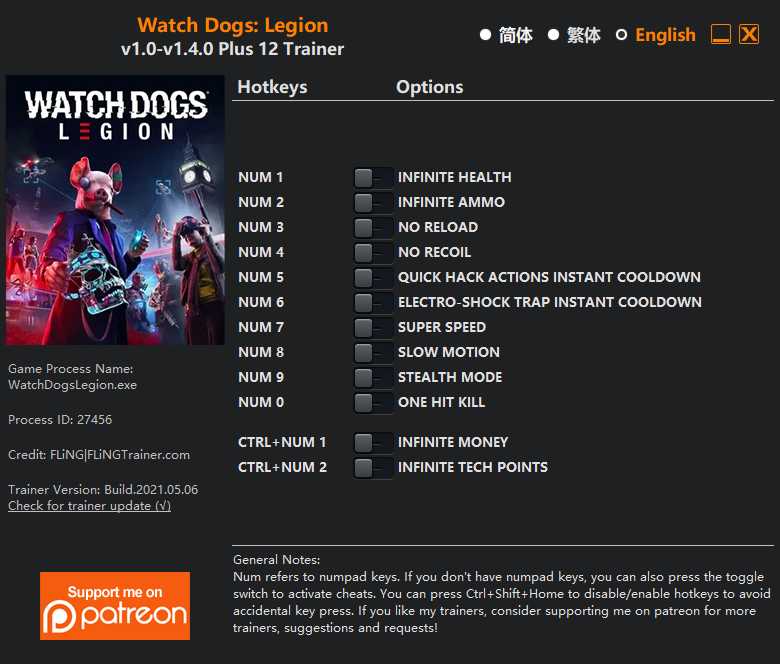 12 Options · Game Version: v1.0-v1.4.0+ · Last Updated: 2021.05.06
Note: Story mode only.
Options
Num 1 – Infinite Health
Num 2 – Infinite Ammo
Num 3 – No Reload
Num 4 – No Recoil
Num 5 – Quick Hack Actions Instant Cooldown
Num 6 – Electro-Shock Trap Instant Cooldown
Num 7 – Super Speed
Num 8 – Slow Motion
Num 9 – Stealth Mode
Num 0 – One Hit Kill
Ctrl+Num 1 – Infinite Money
Ctrl+Num 2 – Infinite Tech Points
Notes
"Infinite Ammo" takes effect when you reload ammo.
"Infinite Money" takes effect when you spend money.
"Infinite Tech Points" takes effect when you spend tech points.
"One Hit Kill": Note in some tutorials you'll need to hit the enemy multiple times, when using this option you'll not be able to get pass the tutorial. You'll need to disable this option and reload the last checkpoint.
Special Notes
This game uses BattlEye anti cheat protection, in order to launch this game without BattlEye, please follow these instructions:
Method 1:
1. Copy "WatchDogsLegion_BE.exe" to game directory\bin\ folder.
2. Start the game.
Method 2:
Add launch argument -BattlEyeLauncher for the game (set launch arguments in UPlay or Epic Game Launcher)
Updates
2021.05.06: Update for v1.4.0 game version.
2021.01.31: Update for v1.3.0 game version.