Age of Empires II: Definitive Edition celebrates the 20th anniversary of one of the most popular strategy games ever with stunning 4K Ultra HD graphics, a new and fully remastered soundtrack, and brand-new content, "The Last Khans" with 3 new campaigns and 4 new civilizations.
Explore all the original campaigns like never before as well as the best-selling expansions, spanning over 200 hours of gameplay and 1,000 years of human history. Head online to challenge other players with 35 different civilizations in your quest for world domination throughout the ages.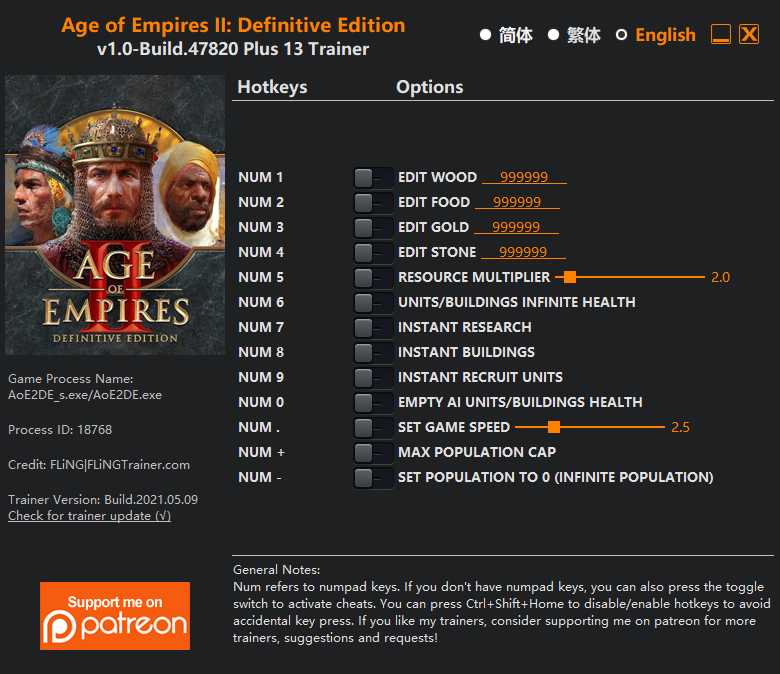 13 Options · Game Version: v1.0-Build.47820+ · Last Updated: 2021.05.09
Note: Single player only.
Options
Num 1 – Edit Wood
Num 2 – Edit Food
Num 3 – Edit Gold
Num 4 – Edit Stone
Num 5 – Resource Multiplier
Num 6 – Units/Buildings Infinite Health
Num 7 – Instant Research
Num 8 – Instant Buildings
Num 9 – Instant Recruit Units
Num 0 – Empty AI Units/Buildings Health
Num . – Set Game Speed
Num + – Max Population Cap
Num – – Set Population To 0 (Infinite Population)
Notes
"Units/Buildings Infinite Health" also works for the player's animals, when using this option, you won't be able to harvest food from your animals.
This trainer is based on Steam version, it can also target Windows Store version, but it wasn't tested on that version, so it may or may not be 100% compatible.
"Set Population To 0 (Infinite Population)" should be used together with "Max Population Cap" otherwise you'll still be limited by the population cap.
Wait for the game fully loaded before activating any options.
Updates
2021.05.09: Update for Build.47820 game version.