Indivisible is an action RPG platformer featuring stunning hand drawn art and animation combined with unique real-time combat mechanics.
Immerse yourself in a fantastical world with dozens of playable characters, a rich storytelling experience, gameplay that's easy to learn but difficult to master, and the trademark razor-sharp quality that Lab Zero Games is known for!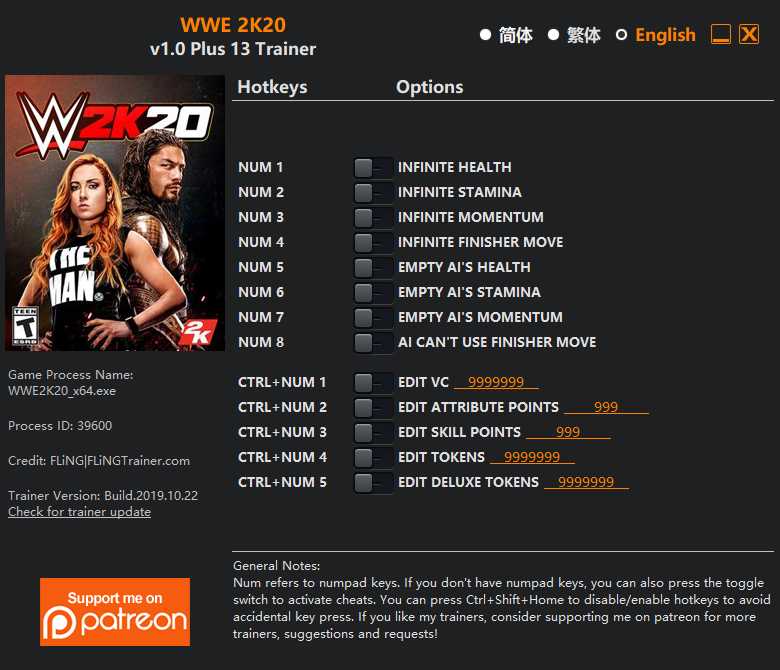 13 Options · Game Version: v1.0+ · Last Updated: 2019.10.22
Options
Num 1 – Infinite Health
Num 2 – Infinite Stamina
Num 3 – Infinite Momentum
Num 4 – Infinite Finisher Move
Num 5 – Empty AI's Health
Num 6 – Empty AI's Stamina
Num 7 – Empty AI's Momentum
Num 8 – AI Can't Use Finisher Move
Ctrl+Num 1 – Edit VC
Ctrl+Num 2 – Edit Attribute Points
Ctrl+Num 3 – Edit Skill Points
Ctrl+Num 4 – Edit Tokens
Ctrl+Num 5 – Edit Deluxe Tokens
Notes
"Infinite Health", "Infinite Stamina", "Infinite Momentum", "Infinite Finisher Move" works on the character you're currently controlling. Characters that you're not controlling (including teammates) are treated as AI.